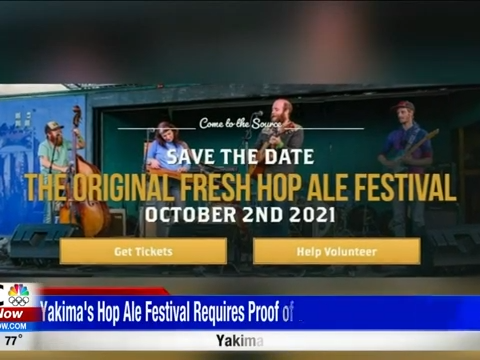 YAKIMA, WA – Yakima's Fresh Hop Ale Festival announced that they are requiring all festival attendees, vendors and volunteers to show a negative COVID-19 test within 72 hours or proof of being fully vaccinated.
They are also having everyone sign a COVID-19 liability waiver and wear a mask except while eating or drinking.
The Yakima Health District says they support their choices because this is something our community needs.
"Its always great to hear any organization that's implementing public health preventative measures and just being proactive at reducing the spread of COVID-19 in our community" said Stephanie Badillo-Sanchez from The Yakima Health District.
The Fresh Hop Group Board President, Karl Vanevenhoven said on their website "The health and safety of our festival attendees, volunteers and vendors is always our top priority and we remain committed to doing what we can to keep our community safe."
The Health Department is still recommending people get vaccinated and stay home if you feel sick.
"Continue doing our part because it will take all of us and right now were definitely encouraging people to not only get vaccinated but to follow these public health recommendations" said Badillo-Sanchez. "We know they worked in the past before the beginning of the pandemic and they are going to continue to work."
The Fresh Hop Ale Festival says that they are also not selling tickets at the door and all tickets must be purchased prior to 5 pm on Saturday October 2nd. Anyone wanting to buy tickets at the gate will be turned away.
Source: NBC Right Now