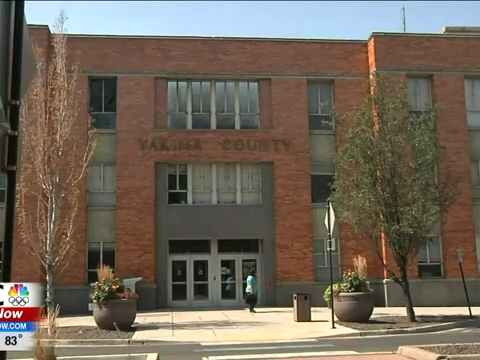 YAKIMA, WA – A anonymous viewer emailed us this week with concerns about his experience with jury duty in Yakima.
The email stated "I was on jury duty yesterday and there was about 100 jurors total in one of the smaller courtrooms at the Yakima county courthouse. When I entered the jurors check-in room we were told that masks were required but over half of the jurors were unmasked, we were not asked questions about being exposed and or having COVID… We were jurors on for half the day. We were told that one of the jurors had tested positive for COVID and that were to go home and call in that night and every night until our jury time is up… As a parent with an infant and a toddler at home I do all the precautions I can to keep them safe… But now I have not only potentially exposed my wife and children."
Yakima Superior Court said they are trying to implement the CDC's guidelines.
"We continue to have hand sanitizer nests available for anyone for anyone who comes into the court room" said Jessica Humphreys, Yakima Superior Court Administrator. "We have opened up our courtrooms because the state is open and we still have access for folks if they need to appear by zoom."
To appear by zoom for jurors, it has to be approved by the judge on the case.
"Earlier this week we had an unfortunate event with a juror who did not disclose that his spouse was currently undergoing a test for COVID and so we had to dismiss the jury panel just to take all the precautions necessary to make sure they were safe" said Humphreys.
This week the county did implement more COVID-19 guidelines. Now, they have a screening questionnaire and take the temperature of every potential juror.
If you want to appear on Zoom for Jury duty, Zoom is available on their regular court dockets for participants in cases that are scheduled for hearings, but not during a jury trial. Jurors are to report in person to the courthouse to serve their jury term.
Source: NBC Right Now