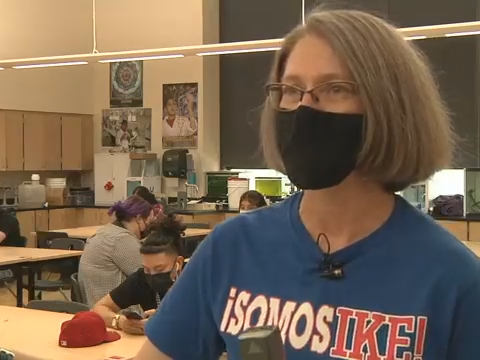 YAKIMA, WA – The Society for Science, a Washington D.C. nonprofit selected 66 stellar educators in the country, and Robin Driver is one of them. Driver won 5,000 dollars to expand her science teachings and research with her students.
Driver, a science teacher at Eisenhower High School, has been selected as a stellar educator not once, not twice, but three times now!
As a lead advocate this year, Driver said she plans to engage more under-represented and low-income household students in STEM and science projects.
"The more kids I have working on projects, the happier I am, you should see this room in March, it is complete chaos," said Driver, "this room is completely taken over by projects."
Driver said her students can choose their own project topics and this prize money ensures all materials are paid for.
"It provides so many opportunities that a lot of kids don't ever think of," said Driver.
Driver works with the 65 other stellar educators around the country to brainstorm ideas to get more students into projects they love.
"They see how that's connected to science and they're learning just so many different skills that help them with their career and college readiness," said Driver.
Source: NBC Right Now