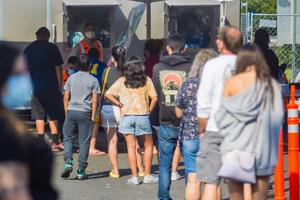 YAKIMA — The number of people in the hospital with COVID-19 in Yakima County tied a record this week, and local health officials again warned of a looming health care crisis.
Sixty-nine people were in county hospitals with COVID-19 on Tuesday and Wednesday, according to the Yakima County Health District's COVID dashboard. That matches 69 hospitalized COVID patients on Jan. 6.
Of those cases, nine patients were intubated Wednesday. The health district reported two more COVID related deaths, and 122 new cases.
The county had a case rate of 1,057 out of every 100,000 people Wednesday. The highest reported case rate was 1,167 from Dec. 28-Jan. 10, 2020.
Yakima Valley Memorial Hospital remains full, Chief Medical Officer Dr. Marty Brueggemann said.
As of Wednesday, there were 198 patients, but Brueggemann said patient numbers fluctuate throughout the day, which means the official Health District daily count may differ from the total counted by the three hospitals in the county. He also said some rooms need to be closed off for infection control. The hospital is still holding some overflow patients in the emergency room.
Fifty-four patients at Memorial had COVID Wednesday, the majority of them unvaccinated. Six patients, all of them unvaccinated, were on ventilators, Brueggemann said.
"Our COVID numbers do continue to climb," he said.
The hospital hit its highest number of COVID patients, 61, back in December, he said.
The hospital is still operating at contingency capacity, Brueggemann said. This includes housing patients in non-typical spaces and re-assigning certain staff in patient care. Meetings are held every morning to evaluate the challenges of the past 24 hours and prepare for the next 24.
Brueggemann said that if the surge continues, Memorial Hospital could implement "crisis standards of care." This would mean rationing health care, with not every patient who comes to the hospital receiving the care they need. Patients with the highest chance of survival generally receive priority.
"I sure hope we don't get there, but that's where we're heading," Brueggemann said.
Hospitals in northern Idaho enacted crisis standards of care Tuesday after hospitals were overwhelmed with patients, the Associated Press reported.
Brueggemann said that it is difficult to guess how soon Memorial could employ crisis standards of care, as it has never happened before at the hospital. He said a staffing shortage, a spike in patient volume or an additional strain on resources could push the hospital over the edge.
As of Wednesday, 64 Memorial staff members were out due to COVID exposure or contraction. Of those, 21 were nurses or nursing assistants. Brueggemann said that those staffing gaps are significant since nursing staff often work in critical care units.
"The point is that we are getting more and more stressed with all of our resources across the board that it only takes one of those resources to break down and you find yourself in that position," Brueggemann said. "We may never get there, but every day, as the numbers creep up, we get closer."
Astria Health facilities are both in crisis staffing mode, but do not have plans to employ crisis standards of care any time soon, Astria spokesman Mike Paoli said in an email.
As of Wednesday, Astria Sunnyside Hospital had 26 acute care patients, 11 of them with COVID, he said. Two of those patients were on ventilators. Astria Toppenish Hospital had nine acute care patients, five with COVID.
Of these COVID patients, about 80% were unvaccinated Wednesday.
The Washington State Department of Health said in a statement Wednesday that avoiding crisis standards of care is top priority and that it is working with federal, state and private health care partners to ease the state's surge.
"At this time, there are no immediate plans to announce changes to the standard of care," Department of Health spokesperson Franji Mayes said in an email Thursday.
Memorial hospital would first consult the DOH and other partners before employing crisis standards of care, Brueggemann said.
Both Brueggemann and the DOH recommended mask wearing, vaccinations and social distancing as ways to slow down the surge.
About 140 local health providers released a letter Wednesday urging people to wear masks and get the vaccine.
The rise in COVID cases has accompanied a rise in the demand for COVID testing, Brueggemann said.
He said that this is the highest demand for tests he has seen all pandemic, as well as the most tests coming back positive. Though the number fluctuates daily, about 30% of COVID tests have come back positive in recent weeks, Brueggemann said.
The COVID testing center at Yakima Valley College was closed Tuesday due to unhealthy air quality. Brueggemann said many people came to the emergency room at Memorial looking to get a COVID test.
"Our ER cannot sustain these volumes again," Brueggemann said. "Yesterday we saw over 300 patients in our ER. There were a large volume of people coming in really just for COVID testing."
He said the ER waiting room generally had 30 to 40 people in it Tuesday and 10% of patients left without being seen by a health care provider.
Brueggemann asked community members not to come to the hospital if they are only seeking a test and not additional care. The Yakima Health District has a list of other locations for COVID testing on its website.
Source: Wenatchee World