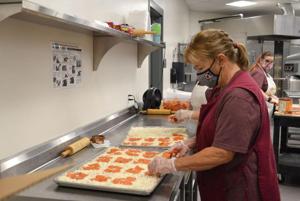 YAKIMA — Pizza day is a big deal in schools. Students look forward to sinking their teeth into hot, cheesy goodness during a break between classes.
But for some Yakima-area schools this academic year, pizza has been nearly impossible to get.
"That's one of the first things that went last week. We did not get any pizza from our vendor," said Nora Flores, food services director for Toppenish School District.
Amid global disruptions in the food supply chain, several school districts in Yakima County have experienced issues getting the ingredients and supplies for student meal programs.
Six school districts placed warnings about last-minute menu changes on their websites in recent weeks. Most of those districts were in the Lower Valley.
Leaders of local school meal programs report having trouble getting food products including milk, juice and processed foods, like chicken patties and pizza.
Other necessary supplies like paper and foam trays, salad containers and disposable bowls have been difficult to acquire. Cassie Davidson, the director of food and nutrition services for Yakima School District, said that COVID protocols mean students cannot serve themselves and food needs to be securely wrapped or contained, making these packaging materials even more vital.
The danger of kids being forced to go hungry at school is very low, Davidson said. The menu just might look different than expected, and it's making things much more challenging for food service staff.
"We're nowhere near not being able to feed the kids," she said. "We will be able to supply food to the kids every single day at school."
Making changes
When an order does not come in, food service workers refer to it as being "outted." Even when orders do arrive, sometimes the quantity received is significantly less than what school meal service directors ordered, otherwise known as being "shorted."
In some cases, meal program directors use different suppliers than the ones they normally work with or head to local grocery stores to stock up on specific ingredients.
Marcia Wagner is the food service supervisor for Grandview School District, a role she has had for the past seven years. Before that, she spent nearly two decades in food service management at long-term care facilities. She said she has never had this much trouble getting necessary supplies before.
She said that earlier in the pandemic the big challenge was delivering meals to students who were involved in remote learning. But this summer, Wagner and other school food service directors received warnings about shortages. When the school year began, so did the challenges of securing the supplies they wanted.
Normally, school food service workers order ingredients a few days or a week ahead. Now, Flores and Wagner said they need to order two weeks ahead.
"So that if I get outted on something, I have another week to try to get it in or to find it or to make another plan and change my menu," Wagner said.
Davidson said in Yakima, her program projects how much food they will need weeks in advance. Now suppliers are asking for projections six months ahead of time. During a school year as unpredictable as this one, Davidson said it's challenging to know what the district will need so far in advance.
"It's kind of a game at the moment and it's not very fun," she said.
Worldwide supply issues
School meal programs make up just one player in the larger food supply chain, which has seen disruptions worldwide.
But the supply chain that delivers food to schools in particular has had to cope with many changes since the start of the pandemic, Wagner said.
When the pandemic began and schools largely switched to remote learning, suppliers had surpluses of products like pizza, Wagner explained. Now, in a school year where most students are back to in-person learning, suppliers and distributors are working to get the system up and running again to the extent schools need it to be.
Grandview, Toppenish and Yakima school districts use US Foods as their distributor. A spokesperson for US Foods said that the product shortages are the result of COVID-related supply chain disruptions.
"Given these challenges, we have been working closely with the bid managers of both Toppenish and Grandview school districts to provide alternative product suggestions and to adjust orders when we know product will not be available," US Foods spokesperson Sara Matheu wrote in an email responding to questions about Lower Valley districts.
The food supply chain involves thousands of moving parts, from growers and farmers to packagers to shippers to distributors. Issues in any one area can have ripple effects up and down the supply chain.
Supermarkets are having trouble keeping some items stocked as issues arise during the production, harvesting, packaging and shipping of food products. Even large companies sometimes cannot get the supplies they need to make or package their products.
"I could never in a million years have anticipated that companies the size of Coke and Pepsi could not get the resources they needed," Wagner said. "And that's really daunting if you think about it, because if they couldn't get them what does that mean for the rest of us?"
Making it work
Despite these issues, school meal program directors still have thousands of kids to feed five days a week, a responsibility they take seriously.
"Wherever we can find the product that we need, we're going to go hunt for it, because the kids and feeding them is super important to us food service directors and our staff," Flores said.
Grandview, Toppenish and Yakima school districts are all Community Eligibility Provision districts, where the area's high rate of poverty allows them to supply free breakfasts and lunches to all their students, even in non-pandemic years.
Wagner, Flores and Davidson all said their districts applied for waivers for some of the nutritional guidelines that school meals normally must adhere to. The waivers are for things like sodium content, whole grain usage and fat content in milk.
Districts have collaborated in some instances. Food service directors in the area meet twice a month to discuss their situations and see where they can help each other out, Davidson said.
"We're all together in this, the directors around this area, and we really just try to help each other out as much as possible," she said.
Flores said that she and other food service directors are looking to see if anyone can find a different vendor with pizza in stock. She said the plan is that if any single district can get its hands on pizza, then it will buy a large amount and sell what it does not need to the other districts.
In Grandview, Wagner's team has been making various recipes — including pizza — from scratch.
But that comes with its own challenges. Wagner said she had to buy some of the pizza supplies from local grocery stores and that she has had trouble getting nonfat dry milk powder, a key ingredient. If she cannot find it, she makes it herself by heating up milk in the district's kitchens.
"I am doing everything in my power to order alternatives, to order emergency backup things that I would normally never keep on hand," Wagner said. "So that if I have to, I can make something."
Source: Wenatchee World