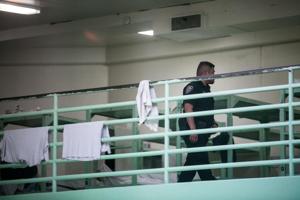 YAKIMA — Twenty inmates at the Yakima County jail are infected with COVID-19, and jail officials are taking measures to limit the spread.
The jail learned of the outbreak Friday, when an inmate tested positive for the virus after complaining he felt ill, said interim Chief Jeremy Welch.
That day, 12 inmates tested positive. Another inmate tested positive over the weekend, bringing the total number of cases to 13, Welch said.
By Monday, a total of 20 inmates and three staff members had tested positive, he said.
Just how the virus entered the facility has yet to be determined, he said.
Those infected have been isolated while the rest of the two units have been placed in a 10-day quarantine. Both units combine for 70 inmates, Welch said.
Those in quarantine will undergo testing every three days, he said.
"To assure we don't get another positive," Welch said. "And if we get another positive, then those 10 days start over."
The jail had grappled with much larger outbreaks last year, with as many as 73 infected at one time and the death of a corrections Officer Mark Oaks, 58, who died Aug. 1, 2020.
Welch said the outbreak mirrors what's happening in the community, where there's been a spike in cases.
"It's kind of one of those things that's inevitable given what's going on in the community," he said. "Luckily we've caught this early enough and hopefully we won't see any more positives."
The Yakima Health District reported 301 new cases on Thursday, and 296 cases on Friday.
A contract employee in the jail's mental health services tested positive two weeks about but had no contact with the inmates presently infected, Welch said.
That employee stayed home until it was safe to return, he said.
This outbreak has prompted testing of staff again.
"Just to get a baseline," Welch said. "We've gone through an outbreak situation before, so we know what to do, jump on it a little bit quicker."
Despite the outbreak, the jail has continued to abide by safeguards such as masking up, social distancing and frequently sanitizing surfaces and heavy traffic areas, he said. All inmates are tested during booking.
"Once this happens, all we can do is close monitoring and testing just to try and stay ahead of it to prevent further spread," he said.
Source: Wenatchee World