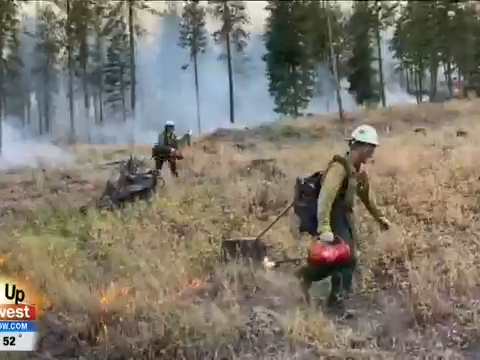 YAKIMA, WA – As the Schneider Springs fire continues to burn about 80,000 acres, the need for donations is direr. For everyone's safety, fire crews and evacuation teams ask community members not to go to the fire line to donate.
Right now, they really only need financial support.
"This [fire] is so above the magnitude that we're used to dealing with, it's depleted things quickly," said Nile-Cliffdell Fire and Rescue District 14, Lt. Vanessa Hopwood.
The Nile-Cliffdell Fire and Rescue District 14 is one of the 11 fire crews working on the Schneider Springs Fire.
"It has been intense," said Lt. Hopwood, "We've had a lot of our resources devoted entirely to this [fire]."
Hopwood said financial donations would go directly to fighting this fire, which will go toward resources, supplies, training, and maintenance for fire trucks.
The Red Cross evacuation trailer is on standby until level 3 evacuations are back in place.
"It's been an interesting wildfire season, it started a little earlier than normal and it doesn't seem to be letting up," said disaster program manager, Cody Tusler.
Money donations help provide enough food, disaster relief supplies, recovery planning, and shelter for those in need said Tusler.
"In order to staff the shelter for the first 48 hours, we need about 4 or five people," said Tusler.
Both organizations are actively looking for volunteers. To learn more information or donate, click here for Fire & Rescue District 14, click here for Red Cross.
Source: NBC Right Now