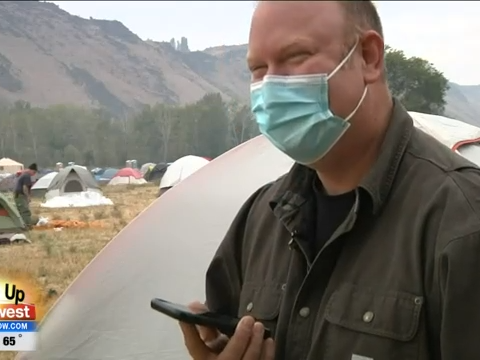 NACHES, WA – Each firefighter may have to live on the incident base for up to 21 days at a time, with only a few days in between shifts.
James Brown, the incident base medical unit lead, has two young kids and a wife waiting for him at home.
He said as hard as it is to be away from family for that long, they know he's protecting Smokey Bear.
"My son is crazy for Smokey the Bear, knows everything about him, and there's even a song and he's memorized that, I'll call him at night and he'll sing me the song," said Brown.
His face lights up as his 6-year-old son sings him the song. When the song ends, his son asked Brown to facetime him so he too can see Smokey Bear.
Brown ensures the safety of all 600 personnel living on base. From slivers and bee stings to broken legs and stitches, he's got it covered.
Whatever it may be, he's only a call away.
The communications tent will radio him with the severity of the injury. Brown said his patients are in and out of the medical tent within ten minutes if they need to go to the hospital.
From waking up at 5 a.m. to getting to bed around 10:30 p.m., he still calls his wife to say goodnight every night.
Brown is on-call throughout the night. He said he's woken up a few times but overall has only seen about 15 incidents called in from the fire line so far.
Source: NBC Right Now