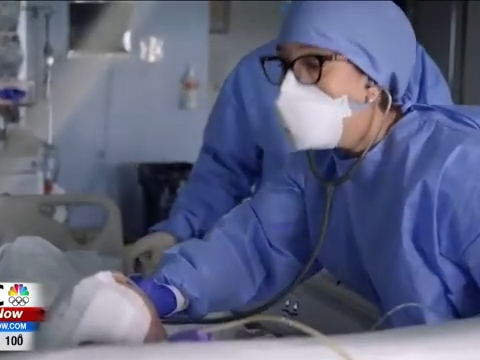 RICHLAND, WA – Healthcare workers are so tired of this pandemic and discouraged at the low vaccination rates that Reza Kaleel, Chief Executive for Kadlec says could help these variants. The discouragement is causing an exodus from the healthcare system.
A recent study from Medscape shows 1 in 5 U.S. healthcare workers considered leaving their jobs because of the COVID-19 pandemic. That number is higher for ICU workers. Especially when there is a shortage of healthcare workers – like at Kadlec Regional Medical Center in Richland. So much so that Kadlec calls an average of 12 hospitals a day to transfer other patients. But, many of those hospitals are overcrowded too.
U.S. nurses considered leaving their job at 43% in 2021 and is even higher for those who are ICU nurses.
The CDC report also shows that those who are vaccinated can still get Delta as well as spread the variant to others which is why they are recommending you wear masks in high risk areas where vaccination rates are low. 74% of people who were infected by COVID and were fully vaccinated.
However, health leaders, doctors, and the CDC do assure that the COVID vaccine still gives you higher protection against severe symptoms, hospitalizations, and deaths. 97% of new hospitalizations and 99.5% of deaths all due to COVID were those who were not vaccinated.
"COVID-19 will continue to mutate and get stronger because that's what viruses do. But being vaccinated will help it from mutating or strengthening itself." said Epidemiologist Angeles Ize.
"The more people get vaccinated the more we could stop this virus from mutating and transmitting Delta to others." said Dr. Peiper.
A nurse on Facebook wrote this:
"We are so tired. Our ICU is full, not only with very sick COVID-19 patients, but also because we no longer have any nurses to care for them. We have have lost so many amazing nurses this past year and a half to burn out and hopelessness. Not only is my hospital full, but recently we can't find placement for a patient needing ICU level care in a 4 state radius.
No. Beds. Anywhere. No. Nurses. Anywhere. My poor friends in the ED are caring for these ICU patients, along with their ED patients for hours on end with no sign of relief. This. Is. Not. Safe. Our patients are suffering because of this. This pandemic has destroyed an already fragile healthcare system.
I am tired. I am angry. I am burned out. And at times, I feel very helpless and hopeless. Please help us. It is simple, effective, readily available, and it is free. Please vaccinate. We are begging you."
Reza Kaleel continued that lower vaccinated areas like Tri-Cities are seeing a shortage in healthcare workers because they also feel hesitant with being exposed to where the transmission of Delta could be higher.
"Yah, many of them feel they are unnecessarily put at risk when there's vaccine out there." said Dr. Peiper, Kadlec's Chief Medical Officer. But here out there treating all patients whether vaccinated or not. There's just getting to be too many patients that we can handle."
Source: NBC Right Now