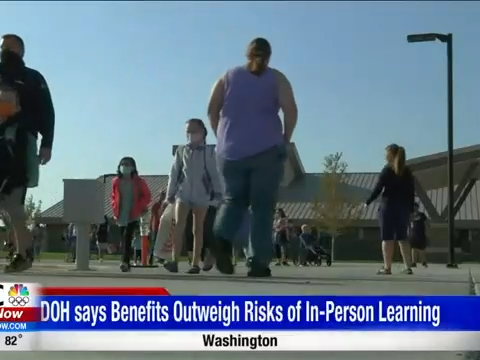 Yakima, WA – Last year the Washington Department of Health said a return to in-person learning was unsafe. Since we now have an effective vaccine and a better testing system they said a safe return to in-person learning is possible.
While some parents are still anxious about their kids returning to school in the mist of the fifth wave of the pandemic, Dr. Umair Shah, the secretary of health, said there are things we can do to reduce the risk of in-person learning.
"We strongly recommend, we strongly, strongly recommend that any child aged 12 and older get vaccinated as soon as possible," Dr. Shah said.
There are also layered covid safety protocols schools are required to have. In addition to required vaccination of staff, masking, adequate ventilation, hand washing, covid testing and social distancing will all be implemented.
Schools are also required to have a response plan in place for positive covid cases.
Dr. Shah said that remote learning isolated students from their peers and made equitable access to education difficult. It also made it difficult to identify behavioral problems, learning difficulties and safety issues. He added a return to in-person learning will be better for students in the long run.
"This isn't just about covid-19, it's about the whole spectrum of health and we want to make sure we're focusing on that especially for our kids," Dr. Shah said. "The work we do now will help ensure a brighter and healthier future not just for our kids but for all of us."
The Deputy Superintendent of Public Instruction Michaela Miller said it is also up to parents to help schools stay open by avoiding risky behaviors outside of school and supporting their school's safety protocols.
"Schools are the heart and souls of our communities and so we need to help them by making sure they maintain that in-person accessibility for all students," Miller said.
With labor day weekend coming up, DOH recommends people avoid traveling or other risking activities that could risk your child bringing covid to school.
They also ask people avoid activities that could put additional strain on an already struggling healthcare system.
Source: NBC Right Now