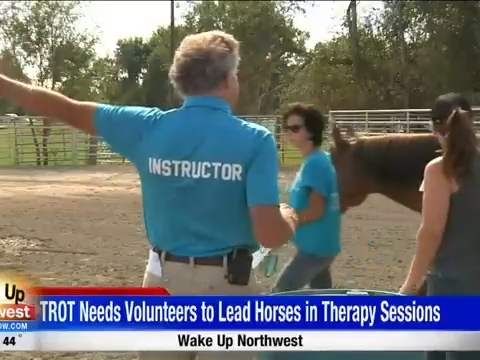 KENNEWICK, WA – A local organization that offers equine therapy to people with physical and mental challenges is seeking volunteers to help lead horses during sessions.
Therapeutic Riding of Tri-Cities classes are back in full swing and with an increase of new rider applications, staff with the organization need some help.
TROT offers many programs like their adaptive riding program. This program teaches riding skills to people with physical and mental challenges. It helps improve muscle tone, strength, flexibility and coordination.
Their classes also help increase confidence and communication. Staff with TROT said they see a lot of growth with their riders.
But since the pandemic hit, they have seen an increase in riders and people that need these services.
Lauren Sheard with TROT said being a part of this organization has changed her life.
"Growing up working around horses, I have seen the benefits of a therapy program, like this, for our volunteers, for our riders, even for our staff. We have a lot of riders that come out here and they can kind of, in a way escape their special needs, their disability. They can come here and just ride," Sheard said.
She encourages you to come and check them out
If you would like to volunteer, you can. If you cannot, they will have their 1st 5K on October 23rd to help fund the program. For more information, you can contact Sheard at [email protected] or 509-412-0112.
Source: NBC Right Now