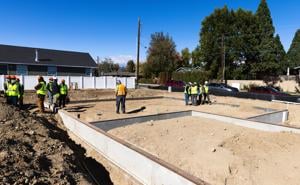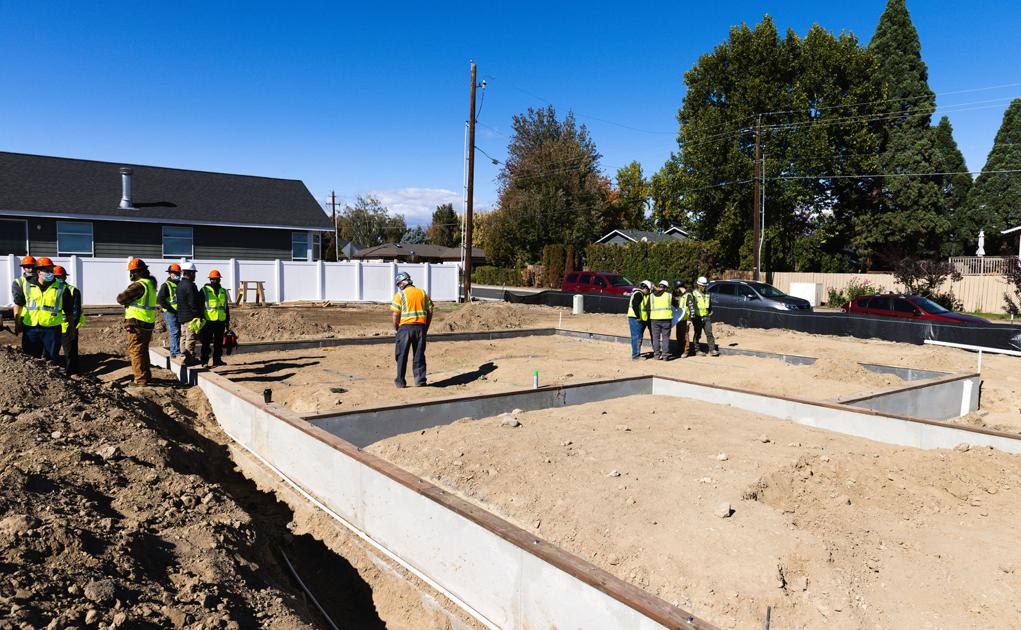 Even as supply chain issues and skyrocketing costs amid the COVID-19 pandemic hit the construction industry hard, the nonprofit Yakima Valley Partners Habitat for Humanity continues work on one of its most ambitious projects in Yakima to date.
Just like for-profit builders, the Christian housing organization that works with low-income families has adjusted. Habitat has helped 195 Yakima Valley families with safe and decent housing since 1984, and usually completes several projects a year. That decreased in 2020 but the need has increased, said Executive Director Meloney Rosen.
The overall development of Habitat's latest endeavor, a 10-house project in Yakima called The Vine, has experienced significant slowdowns because of COVID-19, Rosen said. But work has begun on the first house. Habitat staff, volunteers and supporters gathered late Wednesday morning at 1502 Conrad Ave. in Yakima to celebrate the groundbreaking of its newest and first affordable home in The Vine.
Habitat hopes to finish The Vine by 2026. That's subject to change, especially these days.
"We don't have the power pedestals for the light poles in the cul-de-sac" because they're back-ordered, Rosen said. "You can't get paint now. Construction is still going strong, but getting materials has been a huge challenge. Now we've started ordering stuff well in advance."
Habitat's fiscal year runs from July 1 to June 30. The fiscal year before the pandemic hit, the nonprofit finished nine houses. Workers finished four homes in the fiscal year during the pandemic, Rosen said.
"Part of that has to do with materials. The other is homeowners have to get a loan and can't get a loan while on unemployment," she added. "It's just … a lot of layering. If you get one major bump, it literally ripples out."
Among those attending Wednesday's groundbreaking were representatives of Habitat's project partners. They include the Washington State Housing Finance Commission, the financial supporter; and Yakima Federal Savings & Loan, which provides low-interest construction loans to Habitat to pay for upfront construction costs.
Vern Forenpohar Sons Excavating will oversee The Vine's infrastructure work and Perry Technical Institute's construction, HVAC, plumbing and electrical students will build one home a year. That began with the first home; students were roughing out its plumbing at the groundbreaking. Habitat staff and volunteers will build the others.
The Vine will be Habitat's biggest development in Yakima County, Rosen said, and its 10 single-family homes will be the first Habitat homes in the county that will be solar-ready.
"I would say half the Habitats in Washington are going solar. It's really pretty reasonable," Rosen said. "It does add a little bit of cost, but when you think about what they potentially pay in power, the long-term affordability of that is very significant.
"We're trying to keep them long-term in a home they can afford. Costs are going up so it's harder and harder to meet that need."
All Habitat homeowners go through an extensive application process to determine eligibility and families can always apply, Rosen said. Habitat has 14 buildable lots in Yakima, with a few already assigned to families, Rosen said. "But understand that we're not ready to build those. They can get on the list. … It depends on where we're at in the build project. Most of our homeowners are in the program 12 to 18 months before they get a home.
"We probably are looking for two more Yakima applicants to close up where we're at in the next 18 months. We do have some space in Wapato and Sunnyside."
Because property taxes have increased significantly in the past few years, Habitat has had to renegotiate some homeowners' mortgages, Rosen said.
"Thankfully we're in a position to do that," she added. "We're very conscious of that piece of that. Homeownership is a big step for most of our homeowners."
Source: https://www.yakimaherald.com/news/local/the-vine-will-be-habitat-for-humanitys-biggest-development-in-yakima-county/article_31e43917-de39-563e-8b7c-b29fb32c2800.html