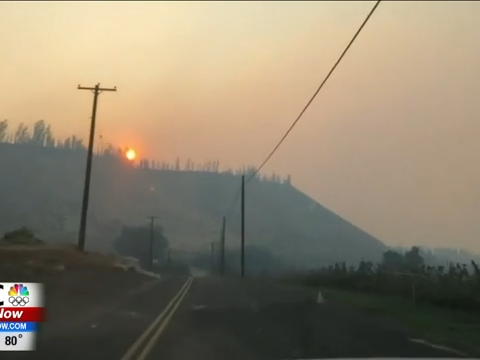 YAKIMA, WA – The Schneider Springs Fire that is burning about 18 miles outside of Naches is now estimated to be 64,484 acres.
Level 3 evacuations have been issued for all residents along State Route 410 from the intersection of highway 12 to little Naches and bumping lake road.
Since the Schneider Springs Fire is at zero percent containment it has been growing rapidly with no relief for the firefighters and the air quality
"If they were to get significant control over the Schneider Springs Fire we might see some reduction in those levels but right now it's just pretty hard to forecast." said Keith Hurly, Air Pollution Control Officer at Yakima Regional Clean Air Agency.
The air quality is hazardous and doesn't seem to have some hope for clean air any time soon.
"What were hoping to see is a front pass through, bring a little bit of rain either Saturday or Sunday" said Hurly.
As of right now, the smoke is going to hang in the air for a long amount of time, the Yakima Regional Clean Air Agency says the weather temperature and wind is affecting it
"When the wind dies down and you don't get much movement, the plume and the deposition from that fire tends to do what all air mases do, float from high pressure to low pressure" said Hurly.
The Federal Emergency Management Agency has approved the use of federal funds to help with the firefighting costs for the Schneider Springs Fire.
The fire management assistance grant is coming out of the presidents disaster relief fund.
In addition to the funds from FEMA another $778,778 will be available to Washington for future fires and related hazards.
Source: NBC Right Now