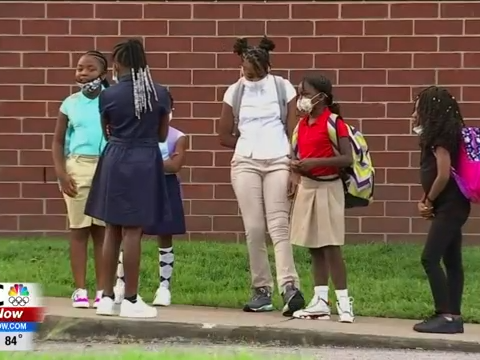 Yakima, WA – Yakima Public Schools (YPS) starts full-time in person learning tomorrow. With that being the case, nurses within the district are reaching out to parents to remind them to update their student's childhood immunizations.
YPS said throughout the pandemic parents had difficultly getting appointments to update their child's immunizations and so now many of them are not updated. To help, the district is hosting childhood vaccination clinics and sports physicals.
In fact, they will be hosting one tomorrow in front of the school district building located at 104 N Fourth Avenue from 10a.m. to 4p.m. You can also find other clinics on their back to school resource page.
These vaccination clinics do not include the covid-19 vaccine, they are solely for childhood immunizations. The covid-19 vaccine is not required to return to school but health experts say they do recommend vaccinating your student if they are eligible.
Dr. CJ Koozer, a pediatric hospitalist at Yakima Valley Memorial, said she has told all her family members in the eligible age range to get vaccinated and recommends eligible students get the covid-19 vaccine.
"I absolutely would," Dr. Koozer said. "I don't have any kids but if I had a 12 year old or higher than that, I would be getting my kid vaccinated."
This is because across the state health officials are seeing more cases in younger kids. Dr. Koozer said here in Yakima they are seeing more cases among unvaccinated teenagers.
"Unfortunately, it has been pretty bad for some of those patients they have needed the breathing equipment like CPAP or BIPAP or sometimes even being intubated," Dr. Koozer said.
According to the Yakima Health District (YHD), on August 10 there were 5,873 cases of covid-19 in kids aged 0-19. As of today, that number is now at 6,230. That is an increase of 357 cases in two weeks and with low vaccination rates among those populations, there is still concern about transmission of the virus in school.
Right now, about 34% of people aged 12 to 17 have initiated vaccination and about 25% are fully vaccinated. YHD also recommends all eligible people get vaccinated and said they are still offering their mobile clinics to help with that.
Communications Director for YHD Stephanie Badillo-Sanchez said there are also other small steps we can all take to prevent the spread of covid-19.
"As we see this rise in cases here in our county as well as throughout the state throughout the country it's definitely important that we take these additional steps," Badillo-Sanchez said. "Just getting vaccinated, wearing a mask, practicing social distancing, washing your hands. All these public health recommendations they've worked in the past and they are continuing to work now."
Dr. Koozer added, the CDC is studying the effects of the covid-19 vaccine on children 5-years-old and up so parents should keep an eye out for those recommendations.
Source: NBC Right Now