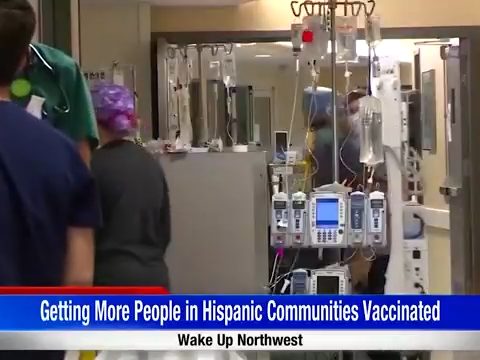 TRI-CITIES, WA – Health officials, Latino leaders, and Pasco city leaders continue to encourage more people in Hispanic communities to get vaccinated.
As the Delta variant continues to grow across the country, data from the Centers of Disease Control and Prevention shows people in Hispanic and Black communities are almost two times more likely to be hospitalized and three times more likely to die.
Health leaders are still battling vaccine hesitancy in both communities.
In efforts to change the statistics, members with Benton Franklin Health District, Latino leaders, and officials with the City of Pasco are pushing more vaccination in Hispanic communities.
Mike Gonzalez, the economic development manager with the City of Pasco said COVID-19 affects not just people, but the economy as a whole.
"We feel like this is the community that really needs to be reached. Because, again, from purely an economic standpoint, we need businesses to be open. We need people to have jobs and we know that COVID-19 is affecting every aspect of not only the economy but the world. If we can eradicate in just one person, I think we have done our job," Gonzalez said.
They will hold an event on September 10 at 9 a.m. It will be held outside the Pasco City Hall where health leaders, local journalists, and city leaders will be there to talk about the vaccines and COVID-19.
Source: NBC Right Now