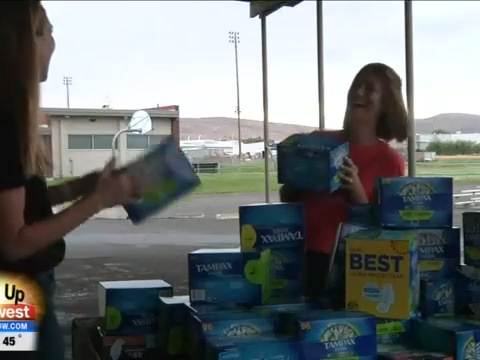 TIETON, WA – The first-ever marathon in Tieton was postponed due to unhealthy air quality. The Never Say Never Half Marathon is rescheduled for April 30th. Organizers decided to donate the 4,100 dollars raised to the Highland School District.
The marathon co-directors gave the district a 2,100 dollar check and donated the rest in tampons and pads.
"99 percent of our donors said yes do it; the excitement and enthusiasm to be a part of this donation brought tears to my eyes," said marathon co-director, Shelley Sleeper.
The new Tampax products are much more comfortable for girls to use than the ones we can afford said district nurse, Trisha Roy.
Roy said with this donation, the Tieton intermediate, Highland junior high, and high school students will have enough products for the rest of the school year.
"It's kind of overwhelming that people are thinking of such a small district," said Roy, "it's very heartwarming."
The check money will re-supply products and buy black pants or leggings for girls to change into said, Roy.
A marathon co-director, Nikki Tucker, has two adopted daughters in the school district. She said she wants her daughters and their friends to feel prepared during their periods.
"This will be here for girls who don't have the resources, don't have the connections, and have a safe place to go to get what they need to feel more comfortable," said Tucker.
Sign up for the marathon online.
Source: NBC Right Now