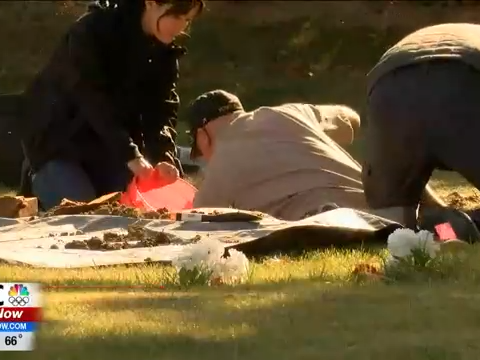 Yakima, WA – After being buried for over 30 years with no knowledge as to who she is or what happened to her, Parker Doe's remains were exhumed today in hopes reviewing her remains again will help identify her.
Parker Doe's remains were found in 1988 near the Parker Bridge. Law enforcement believes she is a Native American or Hispanic woman in her 20s or 30s and about five feet tall.
Parker's remains were buried 34 years ago after her case went cold. Law enforcement at the time was unable to identify the woman because of the condition her bones were found in. The coroner at the time also couldn't figure out how she died, but her death is believed to be a homicide because of the location she was found.
Her case reopened in 2018 and since then the Yakima County Sheriff's Office (YCSO) and the coroner have been working to push the investigation forward. They decided the way to do this is to identify her body – but to do so they needed a sample of DNA.
Public Information Officer for the YCSO Casey Schilperoort said everyone is glad the remains were finally exhumed so the investigation can move forward.
"We're excited about having Parker Doe exhumed so that we can finally get her identified," Schilperoort said.
The FBI agreed to pay about $4,000 to exhume Parker Doe's body because of the high likelihood that her death is a homicide and she's Native American.
Jim Curtice the Yakima County Coroner says it was a bit difficult getting her remains out of the ground.
"The biggest challenge is just getting in there and there was just very limited space to work and little scoops at a time so it took awhile but everyone worked really hard and did a good job," Curtice said.
They started the process without knowing what to expect – when they opened the vault – the top of the casket broke. Luckily, the remains were protected by a body bag.
Curtice looked over the remains to make sure he had what was previously documented. The bag held skeletal remains without the skull. The King County Medical Examiner (KCME) has her skull. Now, they also have the rest of her remains.
A forensic anthropologist at KCME will help take DNA from both the skull and the remains exhumed today to verify they are from the same person. After that, the DNA will be entered in to a few national databases in attempt to identify her.
The YCSO also says they will be working with the Yakama Nation Tribe and Washington State Patrol to see if any Native American women went missing around the time Parker's remains were found.
Source: NBC Right Now