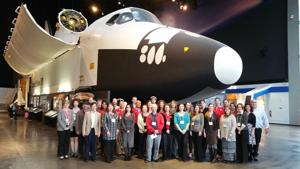 ELLENSBURG, WA – Central Washington University received some out-of-this-world news this month when NASA announced that it will deliver $8.5 million over the next four years to help recruit and inspire the next generation of scientists and science teachers in underrepresented communities.
The grant provides continued support for the Northwest Earth and Space Science Pathway (NESSP) program, which started in 2015 and funds NASA-focused STEM (science, technology, engineering, and math) educational programs in Washington, Oregon, Idaho, and Montana.
Darci Snowden, a CWU professor of physics, will take over as the director and will help NESSP maintain its momentum after a successful first six years.
"The point of this program is to use NASA science to engage and motivate rural and underrepresented students so that they stay interested in pursuing STEM careers in our region," Snowden said, noting that a specific objective of the grant is to reach Native American students.
One reason the program has been so successful, Snowden added, is that NESSP partners get out into the communities they serve and engage with residents of all ages, developing long-term connections with parents, teachers, and community leaders.
"NESSP is designed to provide pathways toward STEM education and STEM careers, but it's also designed to build relationships communities so we can reach more students in the future," she added.
The program also connects with other universities, science museums, and educational service districts across the Northwest, parceling out the grant funding to create a variety of formal and informal programs for K-12 students, such as NASA-focused outreach, week-long summer camps, and extended national student challenges. The goal under the current grant proposal is for NESSP to reach thousands of students and educators per year.
Another key benefit for CWU and its partners is a direct connection to NASA's Science Activation Program, which allocated a combined $35 million to eight organizations across the country.
"Being part of this program means more opportunities for K-12 students in the Northwest to engage directly with NASA science and engineering experts," Snowden said, adding that having NESSP based at CWU will also benefit Central students, she added.
Meanwhile, the university will be able to provide additional camps and informal educational opportunities on campus.
"CWU students will help develop and run these activities, which will be beneficial for students interested in STEM education, in particular," she said. "We will also host more professional development opportunities for STEM teachers, including CWU alumni."
In addition, Snowden believes NESSP will inspire more students to major in STEM at Central, saying, "As we build an even larger cohort of students, hopefully more of them will come to Central and major in STEM."
Source: NBC Right Now