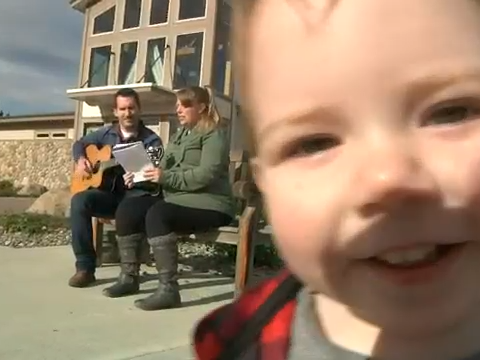 RICHLAND, WA – October is National Pregnancy and Infant Loss Awareness Month. It is to honor and remember those who have lost a child during pregnancy or lost a child in infancy.
One of the most heartbreaking things families can go through is the death of a baby. Yet, as infant mortality rates continue to rise, this experience sadly happens far too often.
One mother who shares her story hopes that she can help others going through the same thing.
Kalina Bryan's favorite quote came from one of her nurses.
"She said, you lost your baby but all that baby knew was love, like that entire life with the baby inside of you. Just knew your love. And so, he sat below your heart. He could feel your heartbeat. He could feel your excitement and that to me, was the most reassuring thing to know. It is hard to lose your baby and not know, but knowing that their entire life was just love, is my favorite thing to think through when I think of the memories with them," she said.
Kalina lost two babies, Noah Micheal.
"It was one of those things that I stopped feeling him move and we went to the hospital and they did they ultrasound so saw that there was no heart rate or heartbeat," she said.
And their second baby, Shilo Ray, at 10 weeks.
She said the most important thing after losing your baby is to seek help immediately.
"You are going to hit really low. It is really hard, you know, I went through like months and months of like super hard depression, but you have to seek out for help that you are going to need and you will need it," she said.
Kalina joined this group, Gone Too Soon, within a month of losing her baby. It is a pregnancy and infant loss support program.
"I just knew like I can't do this alone and it is not something that you should go through alone," she said.
Studies show 1 in 4 families are affected by pregnancy losses.
"This grief is very unique. Families feel isolated because people don't know how to talk to them, so they often just don't say anything at all, and also it is out of order," she said.
As a labor and delivery nurse, Aggie Mowry has encountered this in her career and saw a need in the Tri-Cities. This is the only support program in the region. Kalina said being a part of the group brings her happiness and peace.
"They kind of reassure you in better ways than they know what helped them so they help you too," she said.
She also recommends going to counseling or seeing a therapist.
"It is not bad to seek out someone to talk about it. It is hard to always talk to your families about it so it is nice to have outside sources that, you know, you could have more and more people and share your story with," she said.
Now, Kalina has a 16-month baby and another one on the way in November.
On October 15, in front of the events center at Sunset Gardens in Richland, the group will do a balloon release to honor the babies that lost their lives.
You will get to write your baby's name on a balloon. If you did not name your baby, you may write "baby and your last name" or however you would like. Everyone will also receive a bracelet and ribbon.
The event will be at 915 Bypass Hwy. For more information, you can visit www.chaplaincyhealthcare.org or call/text Aggie at 50094304204.
Source: NBC Right Now