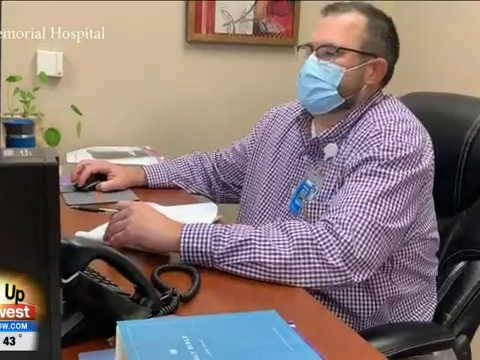 YAKIMA, WA – Yakima Valley Memorial Hospital is honoring its employees for their outstanding hard work with a COVID Hero Award and 100 dollars.
Every day, employees are nominated for the COVID Hero Award by their peers.
Merle Brovont, a patient experience specialist, is seen as a COVID hero among his peers.
Brovont won this award for his hard work, but he said what he does isn't hard at all.
"My passion in life is to make a patient and their families' experience at the hospital be the very very best it can be," said Brovont.
Each award recipient is given a 100 dollar check. Brovont said he's planning to use that money to buy dinner for those in the ICU.
Brovont said his name was the last name he expected them to announce to win.
"It was very very humbling actually when I heard my name," said Brovont, "there are about 3,000 people that work here and 2,999 of them should have gotten it."
But in the eyes of his peers and leaders, he deserves to be recognized.
With limited patient visits, Brovont ensures families still feel connected and protected.
"When their loved one is here with us, they are not a number," said Brovont, "we know every patient that's here, we know them by name, and we get to know their families."
Brovont said this COVID Hero Award program has helped him stay motivated and boost his mental health at work.
"Our motivation comes from within but it does help our mental stability to receive an award like that," said Brovont.
He said he has a few people in mind to nominate for the next award.
Source: NBC Right Now