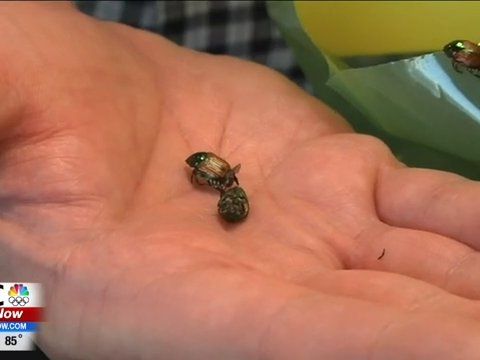 GRANDVIEW, WA – Japanese Beetles were recently found in Washington and The Washington State Department of Agriculture said that this invasive species is threatening Washington's crops, especially the ones found in Yakima Valley.
The Japanese adult beetles eat over 300 different types of plants such as roses, grapes, turf grass and many of the crops grown in the area.
The department of agriculture said they were shocked to see so many Japanese beetles in Grandview.
"We thought there was just a few not hundreds." said Amber Betts, Media Relations Coordinator for the Washington State Department of Agriculture. "The first day of checking the traps this season in Grandview we caught over 400. Now were over 20 thousand."
The Japanese beetles are not destroying the crops just yet, but they do have the potential to do so.
With this jump over a year span, if the Japanese beetles cross the road into the crops, the department of agriculture says "They would have a very wonderful feast at our expense" said Betts.
If you find Japanese Beetles in your yard, The Washington State Department of Agriculture wants to know.
"If you find them we would love for you to report it to us" said Betts. "If you can set out a trap and collect them there's the Biles store in Grandview has a place where you can drop off your findings."
Washington State University released a treatment prevention plan on how to prevent and deal with the Japanese beetles throughout the year, describing various treatments for different months.
Source: NBC Right Now