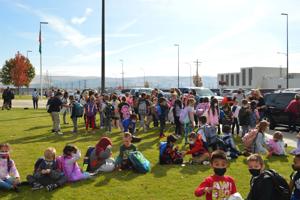 For Mountainview Elementary School parent Jason Sterbnz, pickup time is "survival of the fittest."
He gets there at 2:30 p.m. each day, about an hour before the kids are dismissed, and waits in his truck for his first-grader. His patience and flexible schedule earn him a spot near the front of a line of vehicles that will grow and grow as dismissal draws near.
The caravan of caregivers goes all the way up Stone Road, the winding route next to the school with one lane on each side and no shoulders. Sometimes the traffic reaches up to Tieton Drive, a distance of nearly half a mile.
Around pickup time, the downhill lane turns into a veritable parking lot as parents wait for their kids. Get caught in that traffic at the wrong time and there's no way around it — except to enter the opposite lane.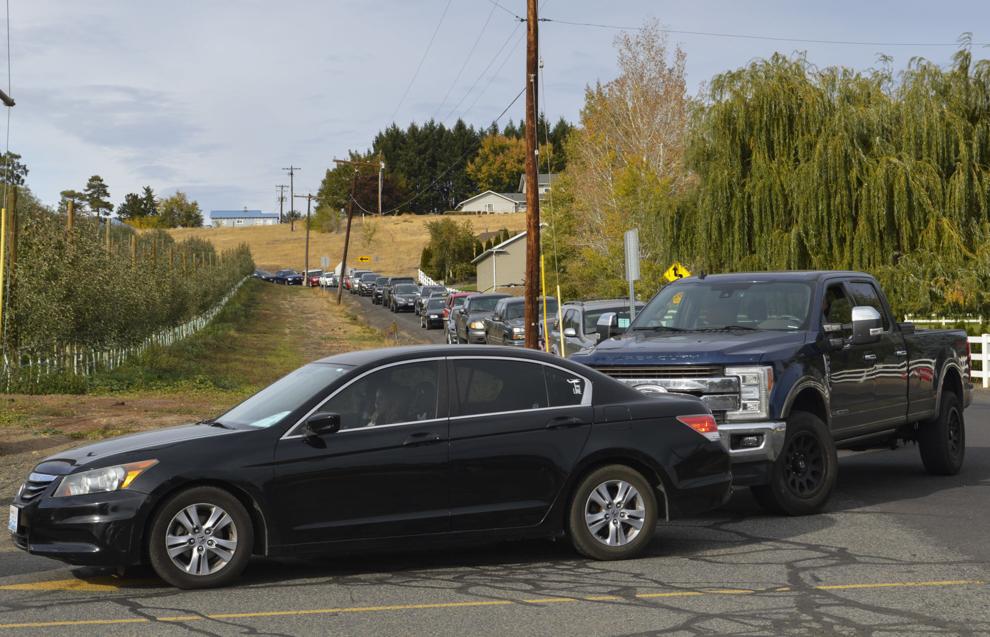 That happens with enough frequency that earlier this month the Yakima County Sheriff's Office's Traffic Division put out a warning regarding the traffic near the school and the dangerous methods people are using to get around it. The alert said people were passing the stopped vehicles in the oncoming lane of travel, causing a safety hazard for everyone. The Sheriff's Office asked people to be patient and possibly use an alternate route during school pickup from 2:10 to 2:40 p.m.
Mountainview Principal Debbie Cameron said she has not received any angry phone calls from parents about the traffic situation this year but knows they could come.
"I look at the line and I can imagine from a different perspective that that has got to be frustrating," she said.
Different approaches
Mountainview Elementary in Yakima's West Valley School District is not the only school facing traffic issues at pickup time. Far from it. At every elementary school, principals, teachers, paraprofessionals and other staff members navigate the logistical hurdles of getting hundreds of tiny bodies into vehicles and safely home.
"It happens all over the place that parents have taken and picked kids up," said Deputy Scot Swallow, who works in the sheriff's office's traffic division. "It just so happens that out there, there's no place on the school property to put parents' cars in the line that are all stacking up there on Stone."
For schools dealing with pickup time traffic, the size of the parking lot can play a critical role.
East Valley Elementary School has a large parking lot, with room for about 100 parked cars. It's something Principal Colleen Crowston is grateful for.
"I really don't think that we are doing anything that other schools aren't doing … but I am very gifted with having a bigger parking lot," she said.
At East Valley, cars form a loop around the parking lot during pickup time. In half the lot, a second, smaller line forms. At a point near the designated pickup area, cars from each line alternate letting one another into the front of the line.
In the waiting area, teachers from each grade level and paraprofessionals stand with students and call them once their parents get to the front of the line.
This is a new system that the school put in place after the pandemic closure. Parents had to remain in their cars to avoid possible COVID transmission. But Crowston said the system works better. The multiple lines help keep cars off Beaudry Road.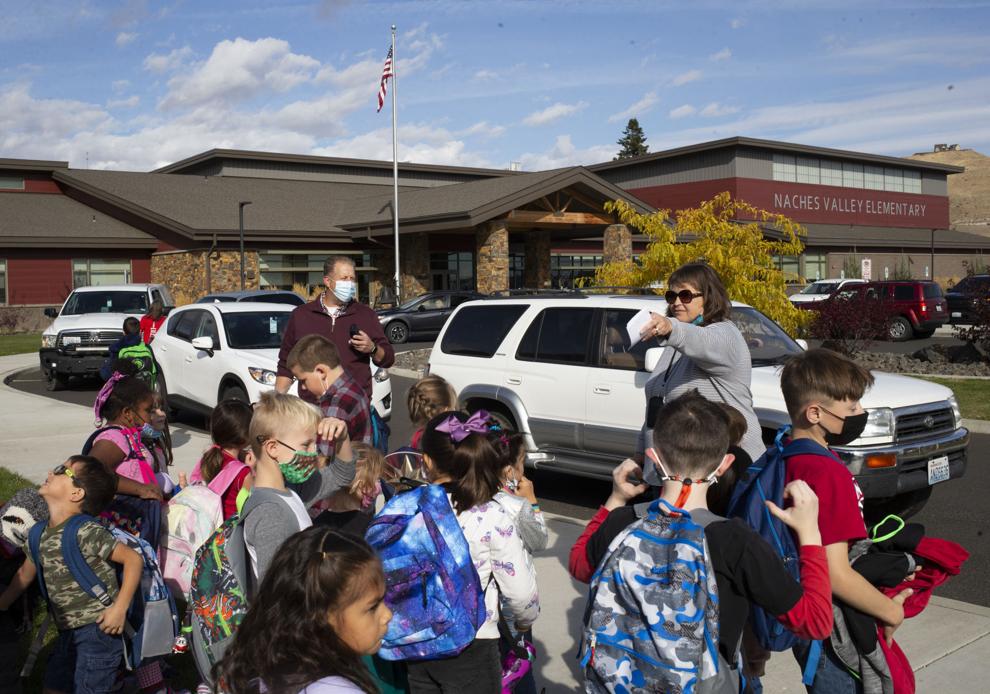 At Naches Valley Elementary School, the campus also features a large lot next to Bonlow Drive, which has one lane going each way.
Cars snake across the parking lot in a curved fashion. Kids waiting for their parents to drive up stand with staff members in a cluster on the school's southwest side. Kids whose parents park and pick them up wait in the gym.
Principal Eric Valentine said his school has, on occasion, asked the sheriff's office to come by around pickup time, but overall parents generally follow the procedures in place.
End-of-day rush
Despite some differences in layout, the schools share several key similarities in their approaches to after-school traffic. Cameron, Crowston and Valentine each said safety is the No. 1 priority.
The safety protocols largely repeat from school to school. Parents and caregivers have signs or tags on their vehicles with the names and grades of their kids, staff members escort students to their family's vehicles, and kids cannot walk across lots unattended.
"It's a lot of logistics and small things, but safety is at the heart of what we're doing here," Valentine said.
The other big factor is efficiency. With dozens of cars waiting in line and hundreds of antsy children, there's not a moment to lose.
"It's all hands on deck," said Kelsey Scully, a second-grade teacher at East Valley Elementary. "Everyone has a job that they need to do, and it works pretty efficiently."
The number of spots for cars at the front of the line to wait also depends on the size of the school. Mountainview has room for two or three cars while Naches Valley can fit six. The staff members who help at pickup time generally know which child goes into which car and bring them forward, opening and closing the doors themselves.
The result is an assembly-line-like system that delivers kids into vehicles and sends them on their way.
At Mountainview the line of cars, which once went as far as the eye could see, was gone 10 minutes after pickup started. Only a few stragglers remained by 3:35 p.m. The staff members who work the pickup line know every caretaker who drives through.
Principal Cameron was moved to bus duty earlier this school year after she couldn't keep up with remembering which car was which.
"I was holding things up," she said, laughing.
Seeing the same drivers twice a day, at drop-off and pickup, allows for connections to form quickly, said Brittney Gonzales, a paraprofessional with children of her own at Mountainview.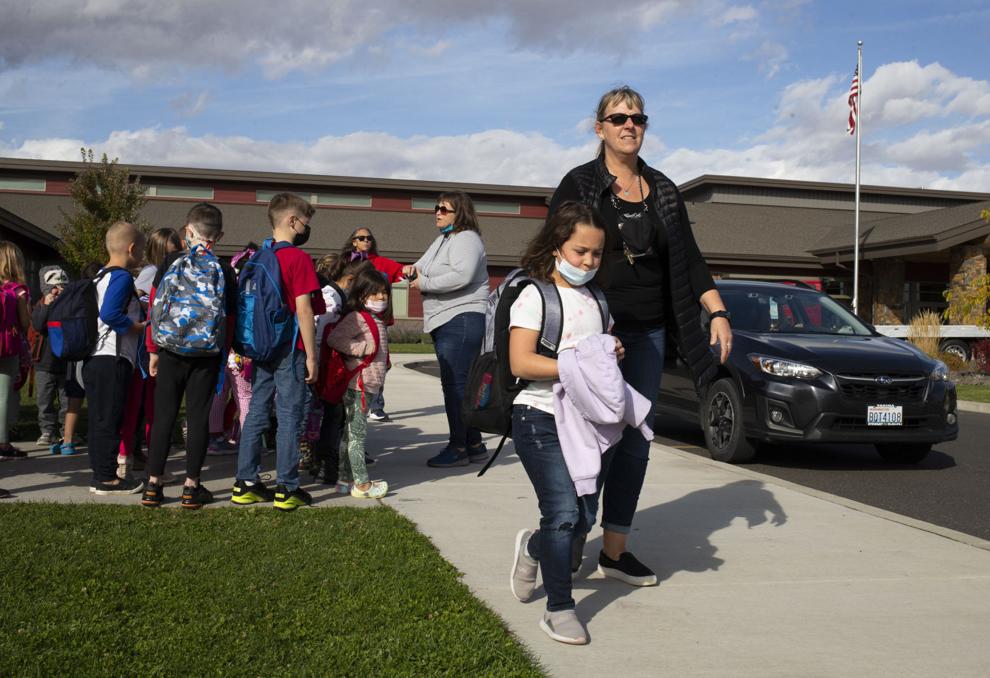 For school staff, pickup becomes a time to make connections, even brief ones, with the people who have entrusted them to educate and care for their children.
East Valley Principal Crowston said she and other staff members get a kick out of one dad who is intent on embarrassing his daughters as he drops them off each morning. He yells and honks his horn as they walk to the building.
"He says he wants to get a megaphone for Christmas," she said. "It's just the fun stories. We make it fun."
Stone Road solutions
There is not a clear solution to the line of cars up Stone Road, law enforcement and school officials said.
Swallow, of the sheriff's office, said he wanted to speak with people in the public works department.
"Put our heads together and see if we can come up with a solution to all this," he said. "I really don't know if there's going to be one for out there because in the end there's just no place to put them."
Cameron said they discussed the traffic situation with the sheriff's office this year, trying to brainstorm ideas.
"Basically, he left and he said, 'I don't have any ideas for you. This is a good procedure, this is safe,'" she said.
Ultimately, Cameron — and the other school staff who make pickup time possible — asked for the same thing: patience. Even if that means a slow descent down the hill.
Source: https://www.yakimaherald.com/news/education/it-s-all-hands-on-deck-how-yakima-area-elementary-schools-approach-pickup-time-traffic/article_6823e366-47ed-5e2d-a742-b8e9cee5b269.html