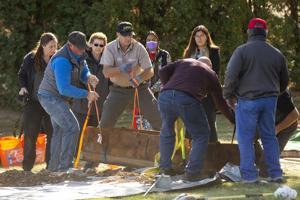 Authorities have exhumed the remains of a woman found in the Lower Yakima Valley in 1988 to obtain her DNA in hopes of identifying her and returning her to her family.
Investigators gathered Thursday morning at the woman's grave at West Hills Memorial Park west of Yakima. They call her Parker Doe because she was found near the unincorporated town of Parker. A horseback rider discovered her remains on Feb. 16, 1988, close to a dirt road that leads from Parker Bridge Road to the Sunnyside Diversion Dam on the Yakima River.
She is believed to be Indigenous, or possibly Latina, and was about 30 to 39 years old, approximately 5 feet tall and weighed less than 120 pounds. Petite clothing was still on Doe's frame and her teeth showed no signs of dental work. Authorities estimated she was outside for four to 10 months before she was found.
They don't know how she died. Yakima County Coroner Jim Curtice has said the cause of death is undetermined, but the manner is presumed homicide because her skeletal remains were discovered near where two other women had been stabbed to death several months before Doe was found. Because of drastic advances in DNA technology, investigators are closer than ever to being able to identify Doe.
Shortly before exhumation began at 10 a.m., Gregg Kiona of Yakama Nation Cultural Resources and Emily Washines, a Yakama Nation historian and advocate for missing and murdered Indigenous people and their families, joined investigators around Doe's grave. Dozens of Indigenous people who have disappeared, have been murdered and have died mysteriously on and around the 1.3-million-acre Yakama Reservation over decades. Many cases are unsolved.
Media representatives standing at a distance stopped recording as Kiona sang a Yakama song to honor Doe. Whether she was Native or not, it was important for them to be there, said Washines, who wore traditional regalia.
"Our songs are our way of communicating and giving prayer for the next steps," Washines said.
Curtice and Peter Orth, supervisory senior resident agent for the FBI's satellite office in Yakima, had already been at West Hills for about two hours. The FBI will reimburse Yakima County for the cost of Doe's exhumation, which Curtice said was $3,983. The FBI is working with Curtice and the Yakima County Sheriff's Office, which is handling the investigation. Detective Sgt. Jason Pepper, head of detectives at the sheriff's office, attended and assisted with the exhumation.
"At this point, we don't know if the female is Native American or not and we may not know until an examination of the remains has been completed," said Steve Bernd, FBI spokesman. The FBI is responsible for investigating serious crimes involving tribal citizens on reservations.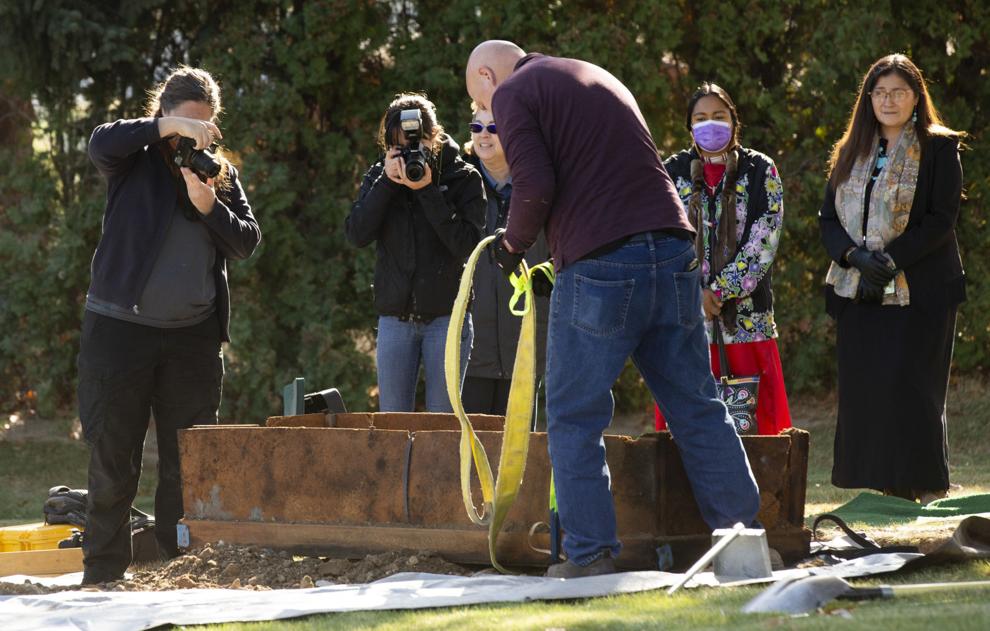 "Once an identification has been made, we will be in discussions with our partners to determine who may be best placed to lead any investigation," he said. "What is important to note is the goal here is to identity the body and bring closure to a family somewhere."
Doe was buried in early 1989 in a particle-board box placed within a concrete vault with a lid. West Hills workers opened the grave and the vault's concrete lid was cracked, which resulted in some dirt coming down onto the particle-board box. Investigators wanted to clear it out and be thorough, yet respectful, in case it contained anything important.
Curtice began by carefully shoveling dirt. Amber Ross, an evidence technician with the Yakima Police Department, sifted some of it and spread more onto a large tarp at the gravesite, gently going through it with gloved hands. Pepper later took over shoveling dirt into a bucket held by Curtice as Ross sifted it.
Rod Shaw, a retired detective for the sheriff's office, looked on. Shaw was the original investigator on Doe's case. "Hopefully they will come up with an answer" for her identity, he said.
Shaw stood by ready to help after Marshall Slight, chief deputy coroner for Yakima County, brought over long straps to slide under the box so it could be lifted out. A West Hills employee brought a few more straps, and the men worked together to pick up the box and place it on the tarp. They then lifted it onto a gurney for transport to the coroner's office.
The process took about an hour, which was faster than Curtice expected. And though it was chilly, the sun was shining. "I'm thankful for the weather we had. And I'm appreciative of the cooperation of West Hills," he said.
Doe's remains will be released to the King County Medical Examiner's Office, which has her skull. The skull was moved there this summer after years of storage at Central Washington University in Ellensburg, where it was taken for a clay reconstruction in the 1980s.
"They will match the skull they have to these remains with DNA," Curtice said. "The time frame isn't set yet. It's kind of a step-by-step process. Getting her out of the ground was the biggest step so far."
Investigators released a new digital portrait of her last month.
Curtice praised investigators' efforts. "For me, it was awesome working with the FBI and the sheriff's office and the King County Medical Examiner's Office," he said.
Washines echoed his appreciation of the cooperative efforts of so many to identify Doe after so long.
"Seeing multiple jurisdictions working together is an important part of these cases and seeing how the original detective came again means a lot," she said.
Source: https://www.yakimaherald.com/thevanished/investigators-exhume-remains-of-woman-found-in-1988-in-lower-yakima-valley/article_46ea3d94-2faf-5392-8393-34e0aafe1b3a.html