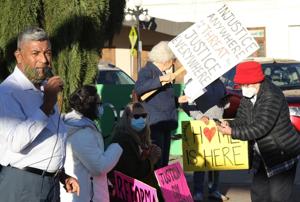 YAKIMA — A group of immigrant rights activists chanted "Si Se Puede" (yes you can) Monday in downtown Yakima, calling for the Biden administration to fulfill its promise to immigrants.
About 40 people in all rallied at Millennium Plaza, where a table was set up with poster board and markers for those in attendance to make signs for the rally.
Emcee Rafael Aguilar said there are 11 million immigrants waiting for President Joe Biden and Vice President Kamala Harris to make good on their campaign promise: a pathway to citizenship.
"Stopping and promoting and hoping we can make a change," he said before the rally got underway. "It's good for them, their families and the whole country."
The event, organized by Seattle-based OneAmerica and the Washington Immigration Solidarity Network, attracted Yakima City Council member Kay Funk and Yakima City Council candidate Danny Herrera.
The rally was among several organized across the state Monday.
It comes after Yakima County entered a settlement in late August with OneAmerica over allegations the county's election system disenfranchises Latinos.
Before getting underway, organizer Audel Ramirez paid homage to the Indigenous people of the area, the Yakama Nation.
He noted the Nation's original territory that once spanned a large swath of the state.
"Today we have the Native people who are tied to this land … who have lived here and continue to live here since time immemorial," he said.
Young people and children gathered around a table to write their messages on poster boards.
Signs read "Home is Here," "Families Belong Together" and "No Human is Illegal."
Karla Ruelas of Sunnyside brought her 5-year-old twin sons, Zayrs and Zayden, to the rally.
She's a leadership coordinator with Nuestra Casa, an organization that aims to empower immigrant women and strengthen families in Sunnyside.
"Our mission is to support immigrants," she said. "This means a lot to us. We've been waiting so long for some type of immigration reform."
Glancing at the turnout, she said: "This is a good start. More will be planned."
Also in attendance was Dori Peralta-Baker, a member of the Filipino-American Community of Yakima Valley. She said there are 28,000 Asian Pacific Islanders in the U.S. under Deferred Action for Child Arrivals, or DACA.
The federal program allows immigrants who were brought here as children to attend school or work without fear of being deported.
"That's why we're here," she said.
Aguilar urged supporters to write federal lawmakers and the Biden administration about providing a pathway to citizenship. He also encouraged people to register to vote.
"That's power," he told the crowd. "As a community we can make a difference. We can't wait for somebody else to do something. We are the difference," he said.
Cristina Ortega, statewide manager of civic engagement and advocacy with the Latino Community Fund of Washington, said it was good to see the community come together for the event.
"It's not just some other gathering," she said. "This is a promise made by our administration. I think it's good that people are standing up and holding them accountable."
Ramirez said immigrants need to keep pressure on the administration.
"That's the whole thing is to pressure them to keep the promise they made during their campaign," he said. "Now they need to remember the 11 million (immigrants) that are awaiting citizenship."
More events are being planned he said, including a virtual rally Oct. 21.
"Throughout the state, there's a lot of action that's taking place," he said. "This is not the end — this is just a kickoff."
Source: Wenatchee World