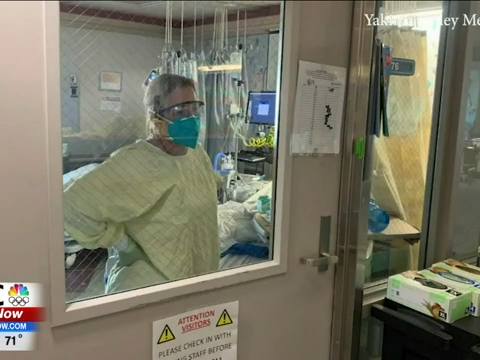 Yakima, WA – The pandemic has made the healthcare shortage worse. As hospitals try to fill the gaps in staffing, the covid patients keep coming and they have to face the harsh reality that they don't have enough staff.
The healthcare worker shortage was long foreseen 15 to 20 years ago. As baby boomers get old and have more healthcare needs and simultaneously leave the workforce that is now the reality. On top of that, we are in the middle of a pandemic.
According to certified RN Tim Jennings, the hospital has to develop a plan for the minimum amount of healthcare workers they can have to safely help patients and report it to the state.
"We are routinely going over that matrix everyday and we have been for the last two years," Jennings said.
Today Yakima Valley Memorial had 75 employees out organization wide. Forty of those employees were out of the hospital for covid-related reasons. Not having enough staff is a daily problem and workers have had to pick up additional shifts to help fill the need.
"It's become a situation where we're pretty much all doing that every week, where we are picking up at least one shift and it just becomes exhausting, it becomes overwhelming," Jennings said.
Covid Unit Nurse Bret Desgrosellier said the delta variant has only made it worse.
"It just keeps going and going and it doesn't stop and lately with this delta variant of the virus it's not coming in waves anymore," Desgrosellier said.
The chief medical officer of YVM said the vaccine mandate isn't affecting how many staff members leave, but burnout is.
"You're running your tail off, you're not sitting down, and then you see all this tragedy left and right," Desgrosellier said. "People are mad at you for trying to help them because they don't want to be here. I mean how can that not just devastate you."
YVM did start offering an employee well being clinic for their staff where they can go and vent about their feelings. Employees just need to go up to the third floor and make an appointment. The communications director for the hospital says they have counselors and social workers present.
In efforts to recognize their employees hard work, they've also started naming a covid hero or team of the day. The hero gets a $100 and food from their favorite place.
However, these things don't help ease the pain of seeing people die everyday.
"I'm not worried about myself getting sick and dying from covid, I'm worried about people getting sick and people are dying and they're preventable," Jennings said.
Right now, YVM is completely full. The hospital as a whole holds 226 beds and they have 229 patients today. While they're trying to find additional room to put people, they still don't have enough staff to help all the patients so some people have to wait for care.
"I have to choose between two people on BI-PAP which is going to get care from me and the other has to wait," Desgrosellier said.
YVM's biggest fear as of now is that people will come to Yakima in search of healthcare because the whole state of Idaho and a hospital in Alaska are now in crisis mode.
They are continuing to search for staff and are offering a $10,000 sign on bonus for respiratory therapists. They also have over 100 other open positions throughout their organization you can apply on Yakima Valley Memorial's website.
Source: NBC Right Now