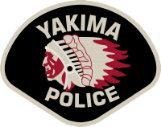 A 42-year-old man police identified as a known gang member was critically wounded during a drive-by shooting early Sunday morning and was flown to Harborview Medical Center in Seattle for higher-level care.
At about 4:00 am on Sunday, March 13th, multiple calls were made to 9-1-1 reporting shots fired in the 1300 block of West Lincoln Avenue. As police officers were on their way to the scene, another 9-1-1 caller reported a victim had been shot in the head inside a house in the area.
When officers arrived on scene, they found the man inside a house with a single gunshot wound to his head. Police officers and paramedics provided initial first-aid to the victim before he was transported by ambulance to Yakima Valley Memorial Hospital. The victim was later flown to Harborview. At last report, the man was in critical condition.
Detectives from the Yakima Police Department Major Crimes Unit and Gang Unit were called to the scene to take over the investigation. Fourteen shell casings were collected in front of the house in which the victim was found. An AR-15 rifle and a semi-automatic pistol were found inside the house. Detectives also gathered information from several witnesses.
Anyone with information that may be relevant to this case is urged to contact the Yakima Police Department at 509-575-6200 or by calling 9-1-1. Tips can be also be reported to Yakima County Crime Stoppers by phone at 1-800-222-TIPS (8477), on the organization's website at www.crimestoppersyakco.org, or through the "P3 Tips" app at http://p3intel.com/mobileapp.htm that can be downloaded for free.
Source: Yakima Police