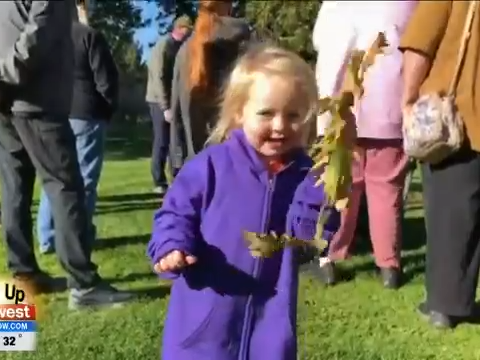 YAKIMA, WA – Ever wonder why the leaves change color and fall during this time of year? Learn all about it and get some fresh air as you stroll through the Yakima Area Arboretum.
The next two walks are Thursdays October 21st and November 15th from 9:30 to 11 a.m. for FREE. Dress accordingly.
"It's a great opportunity to see these color changes come out where you least expect them," said the Education Director and tour guide, Garrett Brenden.
Brenden guides people through the park, stopping at different trees or anything that catches their eye, and answers any questions they may have.
The crowd of 15 people gazed in awe at the bright red leaves on the crimson fire tree.
People asked questions about how and why leaves change from green to yellow, to red. Brenden explained it's the increased moisture in the air, the lack of daylight, and the leaves amount of chlorophyll.
As Brenden described more trees, a little girl found a branch with some colored leaves much more interesting.
"I also just really enjoyed walking around and seeing all the nature, as you can see my sister found a collection of leaves," said big sister, Samantha Norvell as she holds a small bouquet of leaves.
For others, this walk was a stroll through memory lane.
"The arboretum started back when I was graduating high school," said participate, Karl Graf, "I always came back and it meant a lot to me."
So much to him that Graf actually got married at the Arboretum in 2019. He said he likes to take any tips from the walk back to his garden at home.
Source: NBC Right Now