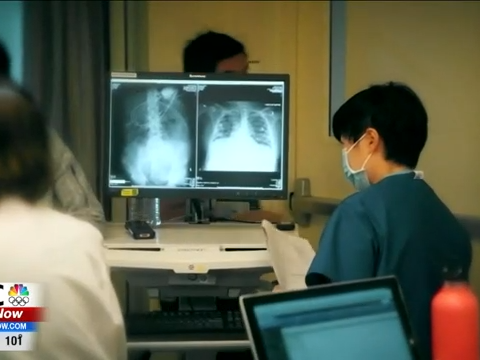 TRI-CITIES, WA- As the Delta Variant continues to spread at an alarming rate Franklin County is now seeing the highest COVID-19 infection rates in the state. Benton County is also one of the top three most infected areas, and the rise in cases are causing concern for our local hospitals.
During a press conference held by the Benton Franklin Health District Kadlec's CEO called the high number of local hospitalizations "avoidable," as 97% of the people filling their beds with COVID-19 are reportedly unvaccinated.
All of this taking a major toll on health workers, and the hospitals' ability to provide care.
"We have many people who are leaving healthcare now, because of this next surge, this deja-vu all over again… and I am finding less and less, now that as this continues we are able to consistently meet that. More frequently we are having to turn away transfers (patients) because we are full to the bed capacity we can staff," said Reza Kaleel, Regional Chief Executive for Kadlec.
Right now Kadlec hospital in the Tri-Cities is caring for 44 patients with COVID-19, a number that was in the single digits just weeks ago. This combined with other ICU patients, and a large number of people hospitalized due to delayed preventative care during the pandemic is causing a staff shortage.
"And as these COVID-19 numbers continue to rise it only serves to crowd out our ability to care for many many other issues," said Kaleel.
Local COVID-19 rates are the highest in the state, while vaccination rates remain among the lowest.
Only 40% of the population in Franklin County has been vaccinated, that number is 47% in Benton County.
Meanwhile our local testing site at CBC is seeing about 500 people per day- the results?
According to the Benton Franklin Health District every 1 in 5 of those tests is coming back positive, with nearly all of those cases seen in unvaccinated people hit with the delta variant.
This as health leaders across the board urge the only way to get through this pandemic is for more people to get the COVID-19 vaccine.
"There is a safe and effective vaccine that is available against COVID-19, our current vaccines continue to show efficacy even against the Delta Variant," said Dr. Amy Person, BFHD Health Officer.
Health leaders also say the best person to talk to with any concerns about the vaccine is your local medical provider, not social media which contributes to the spread of misinformation.
Source: NBC Right Now