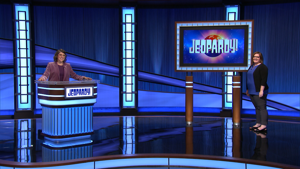 ELLENSBURG, WA — Ellensburg found itself in the national spotlight this week when a Central Washington University accountant competed on the popular TV game show, Jeopardy!
Tracy Pitzel appeared on the Monday night's broadcast and took the show's longtime champion down to the wire. She racked up $17,000 through the first two rounds, putting her within striking distance of Matt Amodio, who has now won 26 consecutive Jeopardy! contests.
Pitzel wagered enough to win "Final Jeopardy," had she gotten the answer right and Amodio got it wrong. Since neither player had the correct answer, the champion retained his title. But not without a fight.
"I wasn't even paying attention to my score, but when I realized I could catch him, I almost lost it," said Pitzel, who traveled to Culver City, California, in late August to film her 30-minute episode. "When I saw the 'Final Jeopardy' category ('80s movies), I thought, 'I'm gonna get this guy!' So I just went for it."
Even though the final result didn't go her way, Pitzel returned home to Ellensburg proud of what she had accomplished. The lifelong Jeopardy! fan said just having a chance to compete on national TV "was like being in the Olympics." And to fare so well against one of the show's most successful contestants of all time, she proved that she belonged.
"I have always been good at trivia, so this was just the next step for me," Pitzel said.
The hardest part, she said, was not telling her family, friends, and co-workers about the results — or even that she had been invited to compete on the show.
"I had to keep it a secret, which was really hard," said Pitzel, a two-time CWU graduate (2005, 2016) who has worked at the university for the past six years. "We had a viewing party at The Tav with about 40 people and I didn't want to ruin it for everyone. But the moment of silence in the bar during 'Final Jeopardy' made it worth keeping the secret."
Pitzel earned the opportunity to appear on Jeopardy! by taking an online test against roughly 70,000 applicants nationwide and placing among the top 10%. She followed that up with an in-person interview in Seattle in 2019, and then had to wait two years due to the pandemic.
But when she finally got her shot, she was ready.
"That was easily one of the best days of my life," she said.
Source: NBC Right Now