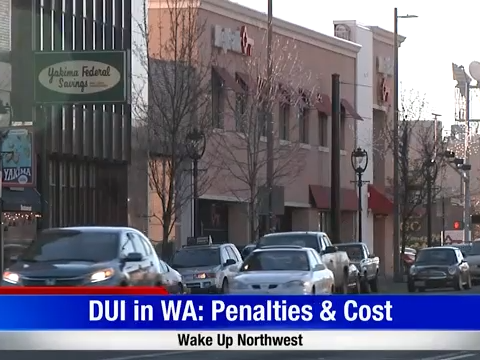 TRI-CITIES, WA – It is National Beer Lovers Day, but it is also the 100 deadliest days of summer.
It is where most of the traffic collisions happen throughout the year. Local police want to remind you to stay safe and sober behind the wheel.
You should think about it twice before you get behind the wheel if you are under the influence of drugs and or alcohol.
"That can affect your rights down the road and your ability to have a job or an enhanced license or commercial driver's license. So, really it can impact you for life and career," Off. Jeffrey Cobb with the traffic unit with the Pasco Police Department said.
So, here is how it works.
"So, when I pull somebody over and detect that they are impaired. There is a lot of different signs as indicators that we look for. Eyes, tone of voice, how people are handling with the fumbling with items," he said.
Then police will ask you to step out of your car.
"And take test, voluntary field sobriety tests, which are standardized and have been studied throughout the United States in the 1980s. They come from the emergency room and now we use them on the side of the road to determine if somebody is impaired," Off. Cobb said.
But there are ways you can prevent that.
"Getting a sober ride, having a friend pick you up, or planning before you go out and drink is the best way to do that," he said.
When you look at penalties, you are looking at anywhere from days, to months in jail, up to $10,000 owed in court, and legal fees.
And it can be up to $500 a month for an Ignition Interlock Device, otherwise known as Blow and Go.
"But you actually have to have that ordered by the court, approved by the Department of Licensing, and installed and monitored once a month, for up to 12 or 36 months. So, you are paying for that for an extremely long time. So, you could be looking at thousands and thousands of dollars," Off. Cobb said.
And again, the best way to prevent a crime that will follow you for the rest of your life is to make a plan before you go and just do not drink and drive.
"Don't plan on being o.k. or making the right decision, once you have been drinking. A lot of times those decisions are gone. So, we want to have that plan, have that person to reach out to and have a safe way to get home, where that is a taxi, Uber, Lyft, any other type of Rideshare. There is are many ways to get home now. We just want you to get home safe," he said.
The department also wants drivers to remember to move over and slow down when seeing emergency vehicles with activated lights.
Source: NBC Right Now