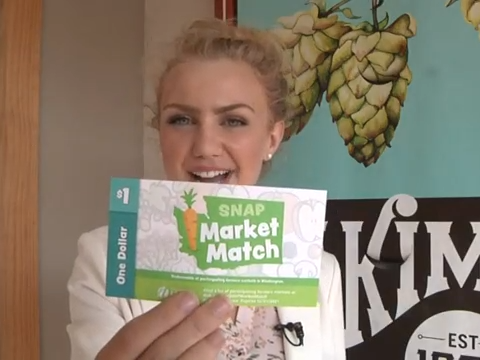 YAKIMA, WA – Every time you get one dollar from SNAP, EBT's and/or food stamps, you get another dollar – thanks to SNAP Market Match.
This program helps people get more farm-fresh food at their local farmer's market. SNAP Market Match is available at Downtown Yakima, Kennewick, Pasco, and Walla Walla farmer's markets.
"It allows them to eat a little healthier versus some bread and chips that they might get in a food box," said Downtown Yakima Farmer's Market Association manager, Yvette Lippert.
Lippert said they Market Matched about 10,000 dollars for people already this season.
"The need in Yakima Valley is definitely there, we find that we help about 100 people every season and it just increases from there," said Lippert.
She said she's just happy to help out people in her community.
"I was on food stamps too at one point of my life so I know exactly how it feels to expand that money because sometimes you don't get a lot," said Lippert.
Those with Women's, Infant's, and Children's (WIC) or Senior Farmer's Market Nutrition Program (FMNP) can get checks to use at the market.
SNAP Market Match dollars need to be spent by the last Downtown Yakima Farmer's Market on October 10th.
Source: NBC Right Now