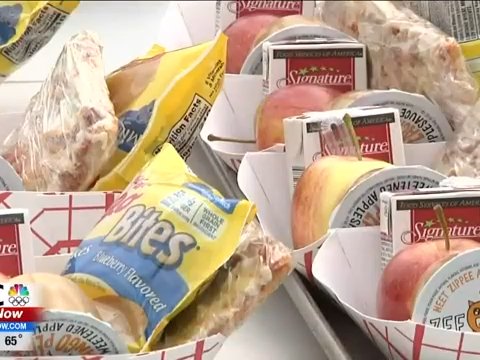 YAKIMA, WA – Yakima School District has been running low on certain food items such as juice, apples, spicy chicken and pepperoni pizza since the pandemic started last year.
"We just ask that students and families be patient and we're doing everything we can to make sure we're giving them delicious, nutritious foods every single day and we'll continue to do that." said Cassie Davidson the Director of Child Nutrition at Yakima School District.
But that is not stopping the school district from coming up with creative ways to serve the most popular meals.
"We have a registered dietitian on staff who is very creative and taking ingredients and making you know into other items, so we have an access of over 300 to 500 items anyway." said Davidson.
When we talked about the shortage in certain items she told me that she's hopeful the shortage will end soon.
"We just need to remain optimistic and have a little patients, there's some days that are probably a little more busy than others trying to locate stuff. For the most part we're just staying optimistic that its going to go away sooner than later."
When I reached out to US Foods, the distributor for Yakima School District they gave me a statement saying in part "Due to the industry-wide impacts of COVID-19, suppliers that provide products to food service distributors are experiencing supply chain disruptions, which can create product shortages… We have been working closely with the bid manager of Yakima School District to provide alternative product suggestions and to adjust orders when we know product will not be available."
Source: NBC Right Now