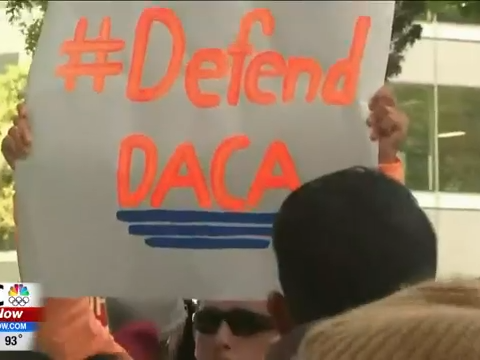 KENNEWICK, WA – On Friday, Texas Federal Judge Andrew Hanen ruled the Deferred Action for Childhood Arrivals, or DACA, as unconstitutional and illegal.
"One of the things that the recent decision from the Texas federal judge was that it was unconstitutional and failed to follow the APA rules," said immigration attorney George Moreno.
The Administration Procedure Act outlines how proposals must first go through different policies to become active, such as through public comment.
"Anything, any law, any new policy has to be given public comment to review it," said Moreno.
Under President Obama's executive order of DACA, Judge Hanen decided the law did not get a public review and was therefore unconstitutional.
This 77-page opinion by Hanen comes after a band of 9 states, led by Texas, challenged the lawsuit.
Now, 81,000 people are pending approval of DACA while about a million are eligible. But now, all these Americans cannot get DACA approval.
DACA status gives those falling under certain criteria temporary work visas and deferment of the threat of deportation for two years. It was proposed by former President Obama s a pathway to citizenship for those brought to the U.S. when they were young and are trying to seek legal citizenship.
"These are people who only know America," said Moreno. "They work, they go to school, they support their families. They don't even have connection to the country they immigrated from".
Those who do have DACA status already can keep it. But the US Citizenship and Immigration Services will not be approving any new applicants.
"This is not the end. We're going to keep fighting," said Moreno.
Moreno encourages those who are eligible to apply to send in their application anyway to have their application pending in case the Texas ruling is appealed.
"The next step would be to appeal it to the Fifth Circuit," said Moreno.
Moreno said he has had many clients devastated by the news.
"I have individuals who were awaiting a decision but because of COVID and other barriers, they haven't been able to get approved. They've been waiting and now won't be able to get approved until if this ever passes as a law," said Moreno.
How this affects local Tri-Citians like college student Elizabeth Perez is the following:
"I have to wait and see if I save up money to pay for school and my books or pay for my DACA status," said Perez. "I want to be able to have citizenship[ so that I can get my masters and become an educator".
"We should not fault these people for being brought to this country illegally when it wasn't even their choice," said Moreno.
Still, Moreno is hopeful that this fight is not over.
"This is only the beginning of a jurisdictional battle," said Moreno.
The ruling by the Texas federal judge applies nationally.
Source: NBC Right Now