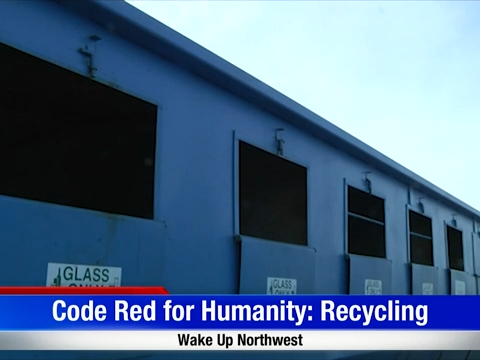 KENNEWICK, WA – Staff with Waste Management has introduced some new changes including new hours and recycling guidelines.
Glass bottles and jars are no longer locally recyclable. Even though there is no more local recycler on the recycling list anymore, that does not mean you have to throw away all your glass containers. There is a lot of glass that can be reused. For example, mason jars! They are great for storage. Reusing and reducing is more impactful.
When there is not an opportunity to recycle, think reuse and reduce. Now that kids are off to school, there are many ways you can do that.
"For example, sending kids to school with a reusable lunch box, instead of a paper bag and storing their food items in reusable containers rather than those disposable zip lock bags," Karissa Jones, a senior associate with Waste Management Education & Outreach Team said.
There are three main categories of what you can recycle. The first is plastic.
"Plastic, you actually want to ignore the number on the container. Ignore the number. Ignore whether or not it has a recycling symbol, instead, you want to look at the shape of it. So any plastics in the shape of bottles and jugs should always go inside your recycling container. But any other plastics, such as plastic bags should be kept out," Jones said.
Another category is clean paper. This is things like newspaper, cardboard, printer paper, but they should be dry.
"And a common question I get on those, 'Is it o.k. if there is a little bit of tape or if there is a staple in that paper. And that is o.k. and that can still be recycled," she said.
And the last category is metal. Emptied-out and washed-off metal cans can be recycled, whether that is aluminum or tin does not matter.
"Those materials should be loose. And by loose, what I mean is, they should just go directly into your recycling bin. They should not be tied up in a plastic bag," she said.
Anything smaller than your fist should not be recycled. That includes small caps. The caps should go in the garbage.
"There is so many different kinds of plastics out there. There is containers. There is different plastic wraps, but if it is not a bottle or jug it should not go into recycling," she said.
And if you are really not sure if your things are recyclable, Karissa says, "We acutally say, when in doubt, check it out!"
It is best to go to their website wmnorthwest.com/Kennewick to see if it is on the recycling guide. And if it is not, make sure you do not put it in the recycling, because what happens then is it contaminates the recycling.
The Kennewick Transfer Center is a good resource. You can go there to recycle your motor oil and cooking oil. In response to a demand from the community, the hours have been expanded, the transfer station is now open from 7 a.m. Monday through Saturday.
For other recycling drop-off locations near you, you can visit https://www.go2kennewick.com/374/Recycling.
Source: NBC Right Now