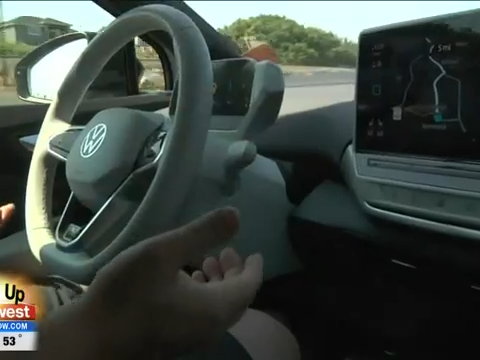 TRI-CITIES, WA – Gas-smart cars, such as hybrids and fully electric vehicles, save fuel and money.
Hybrid and plug-in electric vehicles can help improve fuel economy, lower, fuel costs and reduce emissions.
If you are thinking about getting an electric car, you are recommended to think about your lifestyle and how you want to use the car.
"A lot of people just use it, as a commuter back to forth, plug it in every night, gets you to back and forth to work and around town. Other people if it fits your lifestyle, you can travel long distance, you just have to keep in mind that every two-hundred miles, 250-miles you want to stop for 40 minutes and recharge and you are good for another 200," Larry Lambert, the general sales manager, with Overturf Volkswagen Kia said.
The dealership has had electric cars for about three years. When the range got up to the 250 miles, Lambert said that is when they have seen a lot of interest.
One of the difference between electric cars and regular cars, besides tires, brakes and windshield wipers, is the use of fossil fuels.
"You don't have your traditional service intervals like oil changes. Really they are very low maintenance," he said.
You run on 100% electricity and reply on charging stations. They both sell hybrid and electric cars which are good for the environment. Let's take their Volkswagen 1D.4 for an example. It is a fully electric car. It has a 250-mile range on a full charge. You can charge 80% of the battery in about 40 minutes on a level three charging system.
"The price for the features you get is pretty comparable to a gas product and there are some tax benefits, both federal and state tax benefits that you can take advantage of to make it more affordable. And, of course, you never have to go to the gas station, so that makes it kind of nice too," he said.
He also said those cars have a lot of safety and high-level technology.
"A lot of the interface of the car is developed to be is similar to an iPad or Android device. So, a lot of touch and swipe of icons on the dashboard. They are really fun to operate that way," Lambert said.
In the next four years, Kia and Volkswagon will come out with so many more electric car options like SUVs and electric four-wheel drive.
Source: NBC Right Now