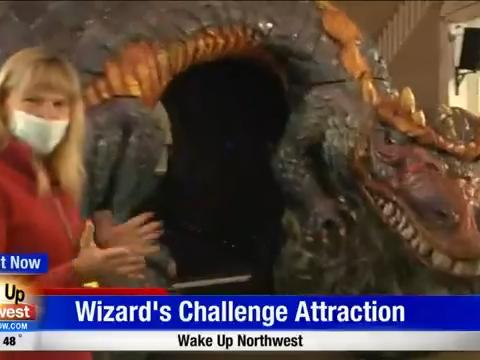 YAKIMA, WA – The Central Washington State Fair will be open for ten day from Sept. 24th to Oct. 3rd.
One festival ride is called the Rock Star. The ride lifts people up about 60 feet above ground for one of the best views of the whole park.
Dogtown X-Treme Airdogs is a fun and competitive sporting event between dogs. Dogs compete on how far and high they can jump into the water. There are multiple competitions daily leading up to the Championship Series the last three days of the fair. Register your dog on their Facebook page.
Wizard's Challenge, located at Pioneer Hall, is a magical and medieval, interactive adventure for kids. Test how long you can hang on a witch's broom or walk through a dragon's dream!
Livestock competitions and displays will be at the brand new Durand Area. One mini horse, Carlos, is competing in the high jump. JC-Lynn Masengale said she's been training him for a year now.
ADMISSIONS:
Adults (Mon-Fri): $14.50
Adults (Sat-Sun): $16.00
Youth (ages 6-12): $9.50
Seniors (ages 65+): $11.50
Military (includes active, reserve, retired, veterans): $9
First Responders (includes Sheriff, Police, Fire, EMS): $9
Family of Military & First Responders: $10
Kids 5 & under: FREE
PARKING:
All Parking for the Central Washington State Fair merges into the Main Lot & Infield Lot from Pacific Avenue.
On-site Fair parking is $10. ADA parking available.
Source: NBC Right Now