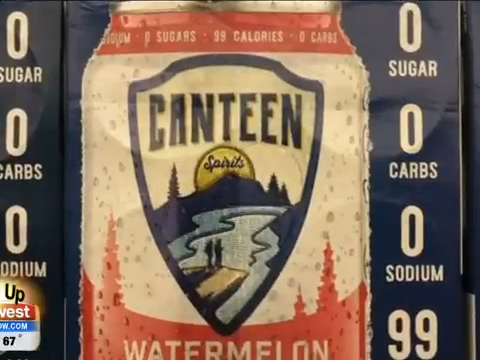 YAKIMA, WA – Ready-to-drink (RTD) alcoholic beverages made it to the second biggest alcohol category in the U.S. The RTD category, including hard seltzers, recorded the largest consumption increase in the country last year.
CANTEEN Spirits has two RTD cocktails; Canteen and Cantina. Canteen is vodka-infused and Cantina is tequila-infused.
It's the healthier choice of all RTDs out there said the Washington and Idaho Sales Manager, Baylee Harding.
Canteen has zero added sugar, zero sodium, no carbs, and only 99 calories per can.
"I really care about what I put in my body," said Harding, "I literally can't imagine drinking a hard seltzer again."
CANTEEN Spirits originated in Austin, Texas, but are hitting selves all over Washington. These RTD cocktails have only been in stores for just over a year.
Flavors include Strawberry, Lime, Black Cherry, Cucumber Mint, and more.
Harding said she thinks Cantina will do especially well in Yakima. She said the Cantina Ranch Water is their most popular.
"It's essentially tequila, club soda, lime, and a hint of salt, it's super refreshing, if you're a tequila drinker, you will love it," said Harding.
Find CANTEEN Spirits at your local Walmart, Safeway, Rite-Aid, and Fiesta Foods. Stores vary in stock.
Source: NBC Right Now