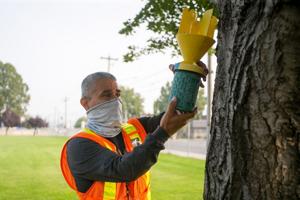 YAKIMA — They're the size of an M&M, but these small bugs are not on anyone's menu. They're making a meal out of Grandview-area plants.
Thousands of invasive Japanese beetles have been caught in the Lower Yakima Valley this summer. They pose a danger to the agricultural industry here, said Amber Betts, media relations coordinator for the Washington State Department of Agriculture.
Last year, traps across the state caught three beetles. This year, more than 23,500 have been captured since late June. The vast majority of those were found in the Grandview area but some have made it to Sunnyside, WSDA agricultural aide Nasario Gonzalez said.
"We have no idea where, they just came from overnight," Gonzalez said.
Betts said the department has tracked the beetle's activity in the state since the 1980s and occasionally one would be found, mostly near a point of entry like an airport. But there is no official explanation for the exponential growth in the past year.
A Grandview resident gave the department a picture from last year of the beetles swarming and destroying her roses. Betts said department staff members realized the beetles had been in the area in larger numbers for longer than they realized.
It prompted the department to dramatically expand its trapping efforts, Betts said. There are 1,900 traps statewide, with the majority of them in Grandview.
A pricey pest
Adult beetles will eat more than 300 types of plants, including foliage, roses, grapes and hops — "all the things that make money here," Betts said.
Betts said if the bugs were to gain a foothold in the area, it could be bad news for local growers.
The Agriculture Department is considering a quarantine for Yakima and Benton counties, according to its website. That would mean restrictions or additional checks of local agricultural exports to reduce spread of the pests, Betts said.
The beetles are an invasive species, which means they have no natural predators in the U.S. to control their numbers.
Right now, the problem seems to be mostly contained to Grandview's more developed areas.
Cody Goeppner, director of retail operations for Bleyhl Co-op in the Yakima Valley, said he has not heard anything from orchard or vineyard owners about the bugs, but has seen traps for them around Grandview.
Gonzalez said most of the traps are in town, but there has been at least one beetle caught near a vineyard.
Trapping efforts
The beetles are active throughout late spring and summer with peak months of May, June and July. The Agriculture Department began its major Grandview trapping efforts June 29, Gonzalez said.
The hanging traps vary in design, but a common one is made up of an hourglass-shaped bag of green plastic with a yellow plastic "X" at the top that keeps it open. A lure baited with beetle pheromones or a floral scent attracts the bugs into the opening. They fall down the plastic and accumulate at the bottom, where they cannot escape.
In Euclid Park, which Gonzalez called "ground zero" for the beetles, a tree showed signs of suspected beetle activity this month. About a third of its branches were bare and many leaves had clusters of holes in them.
He said Department of Agriculture workers would not know for certain if the beetles caused the damage until next year. If the tree grows back fully, then the bald patches were eaten by beetles this year.
He recorded a video on his phone earlier this summer of clusters of beetles in the grass.
"They were just all over the place," he said.
Bare patches across the park's lawn are also hints that the beetles were there, he said. Their grubs feed on turf-grass roots.
Gonzalez said trappers have caught hundreds of beetles in that park. It is just one of hundreds of traps around town.
Agricultural aides go out every day to monitor the traps. Each trap is individually checked about once every two weeks, Gonzalez said.
They use software that allows them to map out all of the local traps and log how many times they have checked each one. Some are located near homes on telephone poles or fences.
Once the beetles are trapped, Gonzalez replaces the bag and takes the beetle specimens back to a laboratory where they are frozen, counted and disposed of.
Gonzalez said the traps will continue to be monitored until the end of October.
This year's trapping efforts are focused on determining where the beetles already are, Betts said. The department can develop a more comprehensive treatment plan once it has that information. Gonzalez said he hoped to start treatment using pesticides and additional traps earlier next year, in May.
The Agriculture Department asks anyone who spots a Japanese beetle in Washington to report it on its website.
The six-legged beetles are about a half-inch long. They have metallic green shells with copper-colored wing covers. Their bodies also have tufts of white hair along their sides.
Homeowners can put traps up near their own gardens.
Bleyhl Co-op has sold about 100 traps this summer with around 75% of those sales in Grandview, Goeppner said. Homeowners can drop off beetle-filled traps at the co-op's Grandview location.
Washington State University has compiled a list of appropriate pesticides that concerned growers can use on the beetles.
Ag Department workers have been performing outreach at local fairs to increase awareness of the beetle problem.
Betts said the beetles do not attract as much attention because they neither sound nor look as imposing as other bugs, like the infamous murder hornets. But the threat they pose is no less severe.
"All of the things that we rely on in our community — in our agriculture economy — could be heavily devastated," she said. "So that's really important that we get on this and get rid of it as quickly as we can."
Source: Wenatchee World