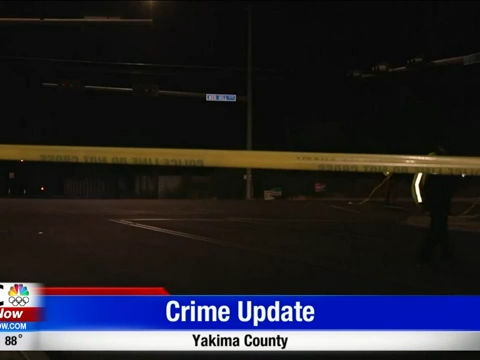 Yakima County – Over the last week police have made progress on three open criminal investigations including a car crash that happened Tuesday night and the arrests of three suspects involved in shootings.
Tuesday night, a crash took the lives of three people and injured a 5-year-old girl. The driver that caused the crash 20-year-old Kolby Funkhouser failed to stop at a red light while heading eastbound on S 48th Avenue. Police say Funkhouser was also driving over the speed limit and under the influence.
Lt. Ira Cavin with Yakima Police said when officers arrived at the scene they found two very damaged cars and people trying to help.
"There were several people that were injured," Cavin said. "There was some bystanders and other occupants of the car trying to render aid, the officers began assisting and rendering aid and waited for fire to get there."
Funkhouser hit a car with four people inside. Two passengers in the car he hit died at the scene and the 5-year-old daughter of the driver was taken to Harborview in Seattle for observation. She is expected to recover.
The passenger in Funkhouser's car passed away at the hospital because of their injuries.
"This is just another good example of speed and intoxicants and why it's important that people are making responsible choices when driving and making sure that when they don't feel safe to drive they're calling for someone else to do that for them," Cavin said.
Funkhouser was arrested Saturday and faces three charges of vehicular homicide and vehicular assault.
Another arrest of a shooting suspect was made on Friday. Yakima Police received an anonymous tip that 34-year-old Manuel Chico Solis was hiding at a residence in Tieton.
Solis was wanted in connection with a shooting on the 1700 block of Summitview Avenue. Police say Solis allegedly broke into a house and shot a man, but not before waving the gun a woman and a young child inside.
At about 1p.m. on Friday, SWAT found him hiding in a shed behind a house on Taft Rd.
SWAT tried to make contact with Solis but he refused to answer phone calls. Around 3:30p.m. they made contact. Negotiators spoke with Solis for 45 minutes before he surrendered.
Captain Jay Seely said Solis was not armed but he was known to be violent.
"It's important to note that this subject has been out on the street and he's continued to allegedly commit crimes," Seely said. "He has ten prior felony convictions so this is definitely an individual that we don't want out among our society at this point until he learns to behave."
Lastly, two arrests were made in connection with the shooting at Valley Mall.
Earlier this week, 20-year-old Henry Zuniga was arrested for driving the getaway car in the shooting that killed 23-year-old Jose Rivera De La Cruz. Zuniga faces charges of criminal assistance.
A few days prior to his arrest, 26-year-old Jonathan Edgar Navarro was arrested for his involvement in the shooting and faces a first-degree murder charge.
Union Gap Police would not confirm if they believe other suspects are involved in the shooting.
Source: NBC Right Now