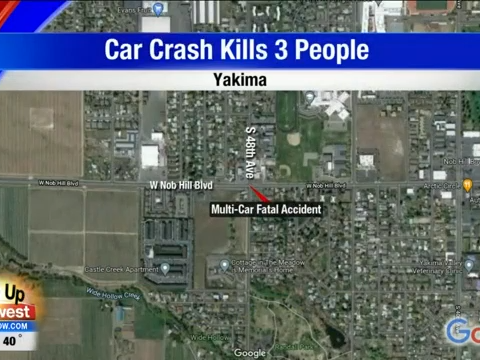 YAKIMA, WA – Three people died in a car crash at the intersection of South 48th Avenue and West Nob Hill Boulevard at 10:30 p.m. on August 31st.
Yakima Police said the driver was intoxicated and will be charged with Vehicular Homicide and Vehicular Assault.
Two people died on impact, another died shortly after at the hospital, and one 5-year-old girl is recovering at Harborview Medical Center in Seattle.
The 20-year-old driver sped through the red light, hitting a car of four. The driver was arrested, but his male passenger died on impact.
The other driver survived with minor injuries. A 19-year-old male sitting in the back seat died on impact. Another backseat passenger, a 20-year-old died later at Yakima Memorial Hospital. The 5-year-old girl is in stable condition.
The intersection was closed for several hours, but has reopened to a 4-way stop.
Source: NBC Right Now